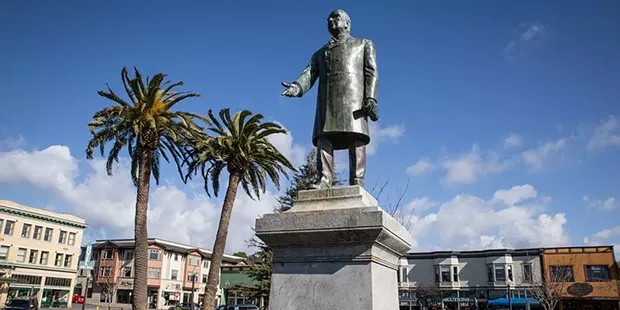 File
McKinley will be coming down in the very near future.
President William McKinley's days on the Arcata Plaza are officially numbered.
The Arcata City Council voted unanimously Wednesday to move forward with the removal of the statue of McKinley at the city's center and to have the statue moved to Canton, Ohio, which has promised to fund the effort.
Without any discussion, the council voted to approve an environmental review of the project and to move forward with taking McKinley down from the center of the Arcata Plaza, where he has stood for more than a century. After the vote, the council briefly discussed relocation options before forming a consensus that Canton is the best future home for the statue of the nation's 25th president.
But the council also stressed a sense of urgency, with councilmembers Paul Pitino and Sofia Pereira asking staff to get the statue down as soon as possible and not to delay as plans are worked out to ship the statue to its new home.
During public comment, speakers were nearly unanimous in their urging of the council to move forward with the removal, which had initially been approved last February and then was also the subject of a November ballot measure. Speakers were also nearly unanimous in their support of relocating the statute to Canton, which is home to McKinley's presidential library near where he was born.
"It's appropriate that the place that gave us such a cruel individual such as McKinley be the ones who pay for the removal of the statue," one speaker said.
According to a
staff report
for the meeting, Canton has formed a working group to facilitate the relocation of the statue and has agreed to reimburse Arcata for the removal and relocation costs, as well as a portion of the $15,000 the city has spent to date on the effort.
While some have pushed for the removal of McKinley's statue going back
more than a decade
— saying it represents American imperialism and genocide — the current effort gained momentum in late 2017, amid a national conversation on historic monuments. The council
voted 4-1
, with Councilmember Michael Winkler dissenting, on Feb. 21 to remove McKinley but a group of citizens later launched a ballot initiative to block the removal effort. While the group was successful on getting the issue on the ballot, it was overwhelmingly
voted down
, paving the way for a McKinley-less plaza.
Last night, the council urged staff to move as quickly as possible in getting the bronze statue — the first major piece by renowned Armenian sculptor Haig Patigian — off the plaza.
City Manager Karen Diemer indicated staff understood the urgency but also said planning the removal would take a bit of time.
"I'd ask this community to be patient and give us a couple of weeks," she said, stressing the need for the removal to be done in a safe manner.