With little fanfare and under a cloak of darkness before dawn this morning, the statue of President William McKinley was removed from the center of the Arcata Plaza, where it had
stood for more than a century
.
Arcata City Manager Karen Diemer said city staff, having received direction from the city council Feb. 20 to
move forward
as expeditiously as possible with the removal, seized a brief break in the rain this morning. Diemer said she and a work crew arrived at the plaza around 4 a.m. to determine if conditions were safe enough to remove the the nearly 9-foot-tall bronze and decided to give it a try.
She said it took about an hour to get a crane into position and at about 5:30 a.m., McKinley was harnessed up and the crane made the first attempt to lift it off its roughly 26-ton granite pedestal. It came off easily, Diemer said, and staff was able to lower it safely and securely into the back of a city truck. From there, it was driven to a city corporation yard, where it sits now.
Iridian Casarez
The now McKinley-less plaza.
Diemer said the city's hope is that a transport vehicle from Canton, Ohio, which has agreed to take McKinley and pay the costs of his removal and transport, will come there to retrieve it in the coming days, though details are still being worked out.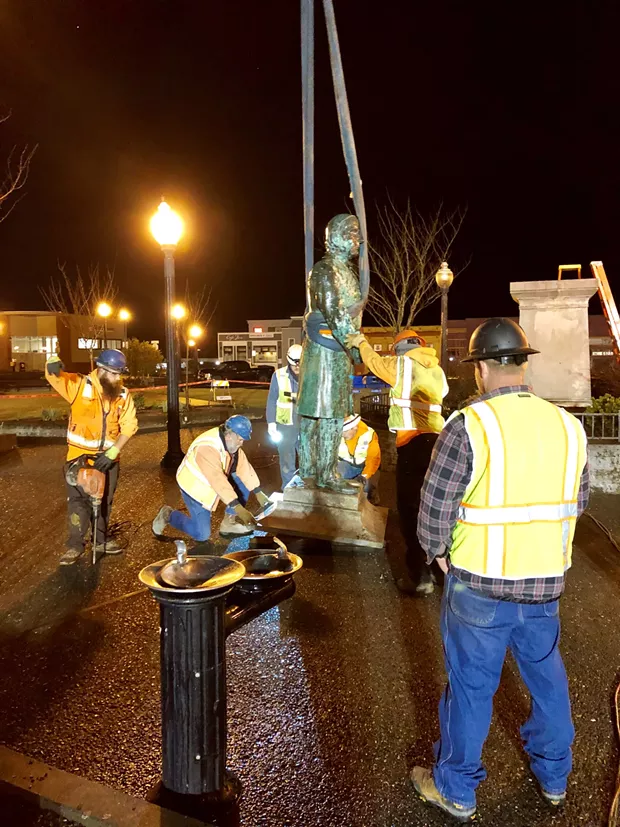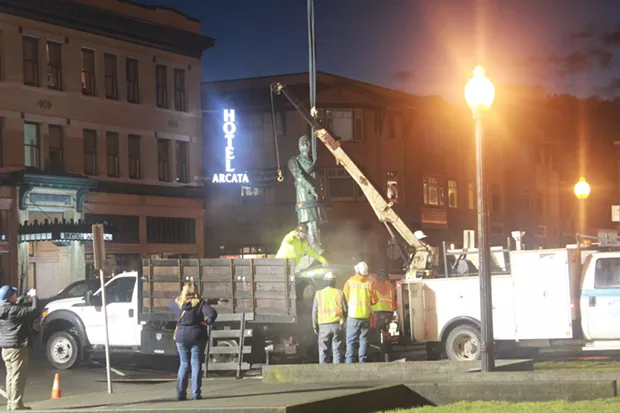 See the full press release just issued from the city copied below:
CITY OF ARCATA REMOVES MCKINLEY STATUE
Arcata, CA, February 28, 2019 – The City of Arcata announced today that the statue of President William McKinley was removed from Arcata's Plaza early this morning.

City staff continued with the statue removal process when a break in the rain occurred with a long enough window for it to be transported safely and at a time when Plaza businesses, parking and traffic would be least impacted.

The City is currently working with the City of Canton, Ohio to relocate the statue.

McKinley Statue Recap
Last year, on Wednesday, February 21, 2018, the Arcata City Council voted in favor of relocating the McKinley statue from the center of Arcata's Plaza.

The statue was identified as a historic feature of the Plaza in the City's guiding document called the General Plan, which required City staff to complete an Environmental Impact Report (EIR) prior taking action on relocating the statue. The intent of environmental review under the California Environmental Quality Act (CEQA) was to describe the potential impacts of removing McKinley to City officials and the public prior to removing McKinley.

Following the Council's vote, a petition to prohibit the removal of the statue and its base was circulated to the Arcata community and received 1,426 signatures, which qualified the petition to become a ballot measure for the general election that took place on Tuesday, November 6, 2018.

On Tuesday, November 6, 2018, registered Arcata voters had the opportunity to vote in favor of, or against the McKinley measure, known as Measure M. The majority of Arcata voters (67.81%) voted Measure M down. Based on the outcome of the general election, City staff initiated the review of relocating the McKinley statue from the center of Arcata's Plaza.

On Wednesday, February 20, City Council certified the Final Environmental Impact Report and instructed City staff to work with the City of Canton, Ohio to relocate the statue. The Council instructed City staff to remove the statue quickly and safely.

For more information on the history of the McKinley Statue, please visit cityofarcata.org