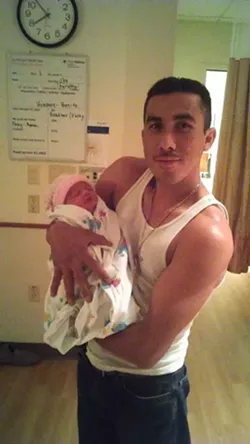 Submitted
Benito Nuñez-Rodriguez
Benito Nuñez-Rodriguez, the 35-year-old man who drowned in the flood waters of the Eel River Feb. 28, will be remembered by family and friends as a funny, compassionate and helpful man.


Michelle Rodriguez, a friend of 13 years, remembers Nuñez-Rodriguez spending time helping his neighbor maintain his yard after the neighbor sustained a back injury.


"Every day, he would go and help them mow the lawn, clean and chop up wood," Rodriguez said. "He helped everyone and anyone. He was the type of person that, if he saw you struggling with grocery bags, he would stop what he's doing and go help you."


Nuñez-Rodriguez was trying to get home from the dairy farm where he worked on the evening of Feb. 28 when he attempted to walk through 4- to 5-foot deep floodwaters from the Eel River, which had crested at more than 25 feet. According to the Humboldt County Sheriff's Office, Trina Nuñez-Rodriguez, Benito's wife, heard him crying out for help. She with their youngest son and a neighbor tried to save him by driving a tractor in the floodwaters to reach him. But before they could get to him, the tractor stalled and while they were stranded, they lost sight of him. Multiple agencies launched a rescue effort but it was suspended after about two hours at 11 p.m. due to dangerous conditions. Deputies continued the search effort the next morning and found him dead.


Nuñez-Rodriguez started working at Alexandre Acres dairy in Ferndale last summer.The farm provided housing for his family, near the dairy. Joseph Alexandre, who oversees the far's operations, called Nuñez-Rodriguez a nice young man and said he did a bit of everything at the dairy, including herding cows from field to field. Nuñez-Rodriguez's family moved to Humboldt County from Medford, Oregon, looking for a new start, Rodriguez said.


Nuñez-Rodriguez's family will be working with Gobles Fortuna Mortuary to send his body to Manzanillo, Colima, Mexico, to be buried where his parents and siblings live. According to Rodriguez, when Nuñez-Rodriguez was working as a firefighter he told his son that if anything were to happen to him, he wanted to be sent home to Mexico. He did not want to leave Trina with the hardship, Rodriguez said, adding that Nuñez-Rodriguez's wife and kids will not be able to attend the funeral in Mexico because they can't afford the trip.
Submitted
Benito Nuñez-Rodriguez (lower left) with his firefighting unit.

Rafaela Nuñez-Rodriguez, Nuñez-Rodriguez's sister, said her brother moved to the United States when he was 16 years old to help support their parents. At any given opportunity, she said he would always help his family in Mexico with whatever they needed. She last him four years ago.


Two GoFundMe pages were established to help pay for the transportation to take Nuñez-Rodriguez's body to Mexico, one by his cousin Miguel Rodriguez and another by Jennifer Hawkins-Machado, who didn't know Nuñez-Rodriguez personally but wanted to help. Hawkins-Machado was in contact with Trina Nuñez-Rodriguez, Miguel Rodriguez and Michelle Rodriguez, and the fund raised $5,000 but was reported as fraudulent. GoFundMe froze the account and they are now trying to work with the site to reestablish the fund.


A vigil will be held Sunday, March 10, at 5 p.m. on the corner of Sage Road and Goble Lane in Ferndale to memorialize Nuñez-Rodriguez's life. Everyone is welcome and those attending are encouraged to bring candles.