Photo by Megan Bender
The Raging Grannies lead a sing-along with the crowd.
When, citing the lack of diversity among its organizers, the original group planning the
2019 Women's March
decided to postpone the event, which ultimately went forward
under new leadership
, they decided to take a different approach and plan for International Women's Day.
In spite of backlash, they expanded their group, kept making plans and hosted a conference at the Labor Temple on March 9. An estimated 60 people were in attendance.
The Womxn Building Community Power group wanted to create a space for members of the community to educate each other on women's issues in a more direct format as an an alternative to just a march.
Committee member Jennifer Be said this was a decision made not necessarily instead of the march, but as more of a kick-off for future events.
"We definitely value the tradition of marching and how that generates literal action," Be said. "So we don't want to dismiss that or say that that won't be apart of what we do in the future."
Photo by Megan Bender
Founder of Conversations About Power and local artist Bianca Lago shares a poem about abuse she experienced growing up.
Though not as rowdy as a crowd of people holding signs, chanting and marching down the streets, the conference offered open dialogue on several politically charged issues for both women and other marginalized people.
There was no shortage of expression with performances from the Raging Grannies, committee member Sarah Torres and Conversations About Power founder Bianca Lago. Others like student Raini Kellog from Movimiento Estudiantil Chicano de Aztlan addressed gains for women, the LGBTQ community and other marginalized communities made in Venezuela brought about by the Bolivarian Revolution.
Photo by Megan Bender
Sex worker activist Maxine Doogan tells the Womxn Conference about how sting operations allow police to engage with sexual contact with sex workers before arresting them.
Redwood Pride invited sex worker advocate Maxine Doogan in to talk about her fight to revive the Violence Against Women's Act and what it would mean for sex workers in terms of redefining trafficking. Other speakers addressed the same act and its many facets of help for victims of abuse.
Indigenous activists shed more light on the Violence Against Women Act and its importance to survivors of abuse as well.
Organizations and groups like California Prison Focus, Improved Medical For All M.E.Ch.A., Redwood Pride and Justice for Josiah lined the Labor Temple hallway to gather support and shed light on topics of discussion for the day.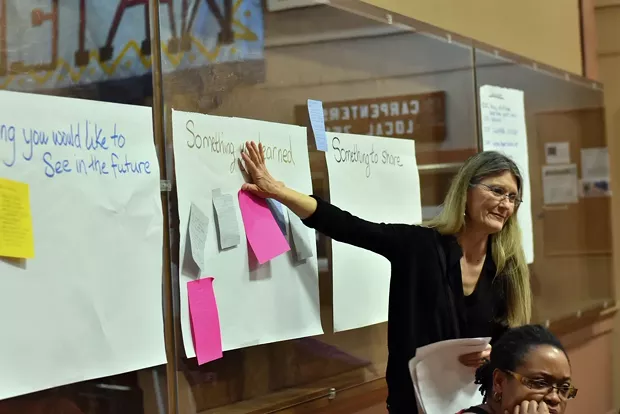 Photo by Megan Bender
Editor of the Humboldt Historian Suzanne Forsyth places her feedback about what she learned on a poster board at the Womxn's Conference March 9 in the Labor Temple
Editor of the
Humboldt Historian
Suzanne Forsyth said she was very inspired.
"As I listened to the speakers today, what struck me most powerfully is how women can survive trauma and then summon the courage to find their voice and offer it to the world to help others," she said.
Be said this conference seemed like a more organic and genuine way to support these things versus having a march with different voices that might not be heard by everyone.
"All these issues can be included in a march," she said. "But we are at a time where we want to exercise things that haven't been done before."
More Information on the Womxn Building Community Power group and future events can be found on Facebook.
Photo by Megan Bender
Six-year-old Miles Edrington, who has attended the planing meetings with his mother Allison Edrington, helps put chairs away.