Courtesy of the city of Arcata
McKinley is prepared for transport.
The statue of William McKinley that stood sentry at the center of the Arcata Plaza for
more than a century
has officially begun the 2,500 mile trip to his new home.
Arcata City Manager Karen Diemer confirmed that a transporter picked the 9-foot bronze up from the Arcata corporation yard, where it has laid in repose on the back of a flatbed truck since Feb. 28, when the statue was removed from the plaza by crane before dawn. The removal came just a couple of weeks after the Arcata City Council
approved the plan
and agreed to send the statue to Canton, Ohio, which has pledged to pay some of the removal and relocation costs and is home to McKinley's presidential library and museum. (The council previously voted to remove the bronze last year. That move was subsequently upheld by Arcata voters in November after a group of residents and the Wiyot Tribe said they found it to be an offensive symbol of genocide and imperialism.)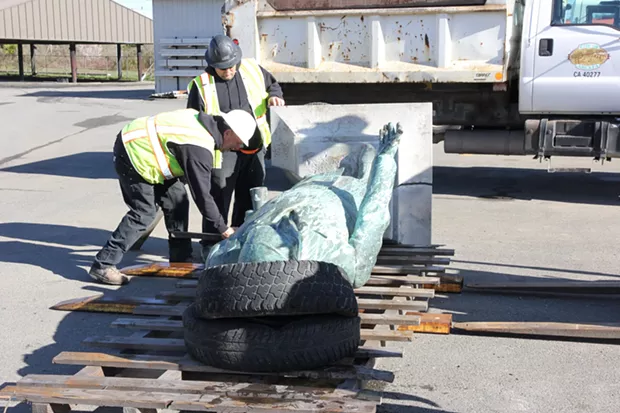 Courtesy of the city of Arcata
Staff stabilize the McKinley statue to be transported to Canton, Ohio.
Diemer said the statue's first stop will be at a restoration shop in Ohio that will try to repair McKinley's patina, which was damaged in October when someone vandalized it with an acidic substance.
Courtesy of the city of Arcata
McKinley lies ready to make the trip to Canton, Ohio.
As you bid Bill adieu, check out the slideshow below of images taken throughout the decades.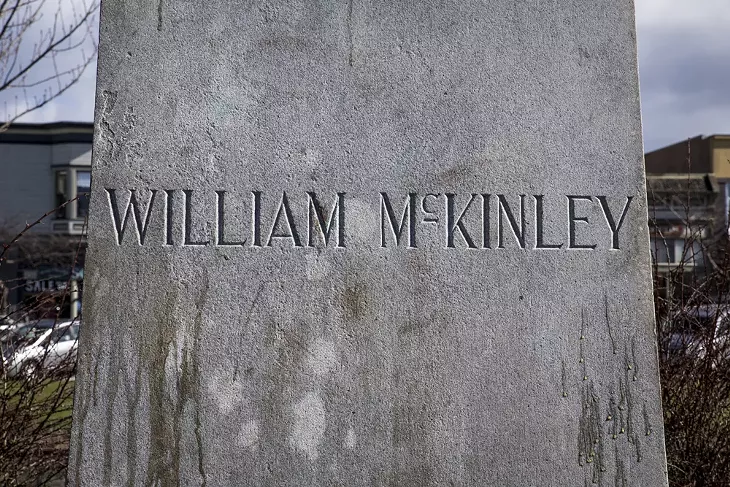 24 slides