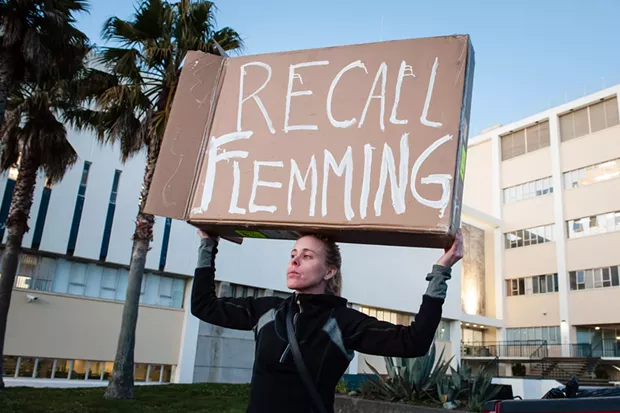 Mark McKenna
Aunna Bowllmann holds a sign in front of the Humboldt County Courthouse yesterday, protesting a criminal grand jury's decision not to indict anyone in the unsolved killing of David Josiah Lawson.
The mother of slain Humboldt State University sophomore David Josiah Lawson says she won't give up in her quest to find justice for her son, despite yesterday's announcement that a criminal grand jury convened in the case declined to hand down indictments.

"I am heartbroken by the (grand jury's) decision, my family is heartbroken. We are devastated again," Charmaine Lawson said in a voicemail left for the Journal. "I'm going to continue to fight for my son. I'm not going anywhere."

A vigil is planned to commemorate the 23 month anniversary of Lawson's death tomorrow evening in front of the Humboldt County Courthouse. Charmaine Lawson said she plans to attend the vigil and hold a press conference in the near future.

Lawson, a 19-year-old HSU sophomore, was fatally stabbed at an off-campus party in Arcata on April 15, 2017. Kyle Zoellner, a 23 year old McKinleyville man, was arrested shortly after the stabbing but a judge later dismissed the murder charge facing him, citing insufficient evidence to hold him to stand trial.

Yesterday, the Humboldt County District Attorney's Office announced that a criminal grand jury decided not to indict anyone in connection with the stabbing after hearing testimony from more than two dozen witnesses.

The Justice for Josiah campaign sent the Journal a statement calling on community members to join the organization in front of the courthouse tomorrow at 5:30 p.m.


"If you are outraged, angered, saddened, numb or disheartened by the recent grand jury decision, take these emotions and propel them into action with us," reads the statement, which is copied in its entirety below.

Dear Humboldt County community members,

Now more than ever we need your presence. If you are outraged, angered, saddened, numb, or disheartened by the recent grand jury decision, take these emotions and propel them into action
with us. Collectively we have power, and together we demand justice. Join us on the steps of the Eureka Courthouse on Friday, March 15th @ 5:30pm.

People who are the least impacted by the news of the inability of the DA & APD to do their job, we need you, we need your energy and privilege. If you have never shown up, but always wanted to,
now is the time. If you or your family have suffered an injustice or have been impacted by the Humboldt County's DA's office or law enforcement, we stand with you. Join us and protest. As Charmaine Lawson has said, "This is bigger than justice for my son."

If you are tired, saddened, numb, and most impacted by this decision, we have your back, we support you. We will not stop.
Charmaine Lawson is a testament to love, strength, and faith. Be motivated and empowered by her light. She will not only fight for justice for her son, but she is also fighting for justice in Humboldt
County. Knowing the genocidal history of Humboldt County with the arrival of white colonizers, acknowledging the epidemic of Missing and Murdered Indigenous Women, and the lack of solved
cases in Humboldt County, Charmaine knows she is not alone.
When Black Lives Matter there will be true justice.

Justice for Josiah.<!——EndFragment——>


<!——EndFragment——>