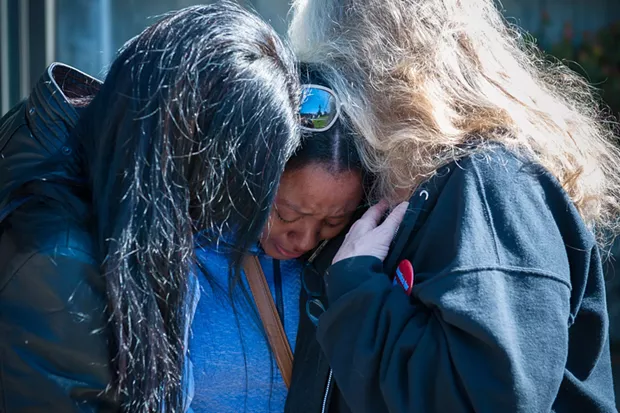 Mark McKenna
Charmaine Lawson is hugged by supporters shortly before addressing students, faculty and the community on the HSU Quad on Friday, the 23-month anniversary of the killing of her son, David Josiah Lawson.
Red hats, scarfs and sweaters enveloped the exterior of the Humboldt County Courthouse and "Justice for Josiah" and "I stand with Charmaine Lawson" signs sat on the steps, as Lawson began to speak.
"We're not going to stop fighting, this doesn't end," she said. "Thursday's decision doesn't end. Maggie Fleming, if you can hear me, you have me fighting harder. I'm fighting harder."
Lawson's son, David Josiah Lawson, a 19-year-old Humboldt State University sophomore, was fatally stabbed at an off-campus party April 15, 2017, reportedly after being in at least two physical altercations with a 23-year-old McKinleyville man, Kyle Zoellner. Zoellner was arrested at the scene but a Humboldt County Superior Court Judge
dismissed
the murder charge, finding there was insufficient evidence to hold him to stand trial.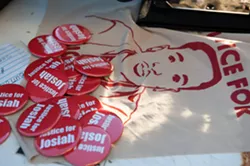 Last November, interim Chief of Police Richard Ehle turned the investigation over to the Humboldt County District Attorney's Office, saying there was "
unequivocal physical evidence
" linking a specific suspect to the murder. But the Humboldt County District Attorney's Office sent out a press release on March 13, announcing a criminal grand jury
declined to indict
anyone in connection to Lawson's stabbing and "therefore, no charges will be filed in this case."
According to the press release, the grand jury made up of 19 jurors convened on Feb. 28 and heard testimony from 25 witnesses, including forensic experts and DNA evidence. The decision was later met with protest as a dozen people headed to the steps of the courthouse that night. Zoellner's attorney also sent out a press release on his behalf, which you can see
here
.
The Friday night protest began with a song, "Amor Eterno," played by Octavio Acosta, an HSU student. Then speakers, including Lawson, Eric Rydberg, Michihiro Clark Sugata, Mike Fennell and Shemya Vaughn, talked about their frustrations with the case and called for the community to make change and demand justice.
"We stand in front of a system that has failed," Rydberg told the crowd. "We need to stand together in solidarity and demand justice. We're going to stand with Charmaine and we're not going to stop until we do."
Mark McKenna
Charmaine Lawson calls on the community to continue to demand justice for her son.
Fennell, who has grown close to the Lawson family and attended the preliminary hearing in the case, asked the white community to use its privilege to make change and also expressed the idea of recalling Humboldt County District Attorney Maggie Fleming. The crowd cheered.
"The hard work should really be on the white community up here, to help change, we can't do it alone. It needs to be a collaboration," Fennell said. "I think it's time to consider a recall of our district attorney. … Even if the recall doesn't work, we will weaken her chances in the next election."
Before the protest ended, Lawson called up all current HSU students to stand with her at the top of the steps. Half of the crowd joined her.
"This is our future behind us," Lawson said. "They are our future and we have to protect them. We cannot abandon them. … You all are destined for greatness and you will change the world."
Mark McKenna
Humboldt State Student Janaee Sykes speaks to the crowd as Charmaine Lawson holds her hands.
She then asked one of them to speak. Janaee Sykes, an HSU student and an acquaintance of Josiah's, told the crowd to continue to fight for Josiah.
"I'm extremely disappointed," Sykes told the Journal. "It hurts to know that he should be graduating. I just want the community to continue to support Charmaine. We owe it to her."
Earlier in the day — in what was her first appearance in the county since the grand jury's decision — Lawson had gone to HSU and spoke on the university quad about Fleming's handling of the case..
"I'm am going die fighting for my son," Lawson said. "I'm going to continue to fight."
Mark McKenna
HSU University Police Chief Donn Peterson listens while Charmaine Lawson speaks of her son.
In the quad, people were wiping and sniffling back tears as Lawson spoke about her son and told them stories about his character. Among the crowd stood HSU President Lisa Rossbacher, who, according to Lawson, called her Thursday and voiced genuine frustration and anger about the grand jury's decision. Lawson then told the retiring Rossbacher not to abandon her son in the time she has left as president. She also urged the crowd to continue to fight for Josiah.
"Do not turn your back on him. Do not abandon him. Stand for him. Fight for him. Because this could have happened to anyone of you," Lawson said.
Lawson plans to attend HSU's graduation in place of Josiah, who would have been in his last semester at the university. Until then, Lawson will continue to return to Humboldt to work on the Josiah scholarship and the housing program, "Josiah's House."
"Thank you all for coming out and supporting me," she told the crowd last night in front of the courthouse. "If we have to go back to city council, so be it. If we need to shut if down, so be it. We're not going anywhere. HSU students, I love you all and pray for your safety each and every time you leave campus, I pray for your safe return."
42 slides