The vastness of things often comes home to me while I'm photographing at the edge of the continent or beneath the stars. To the east is the grounding solidity of the great North American land mass, to the west the immense Pacific Ocean stretches far beyond the horizon, and above, the field of stars. And there I am, just a tiny thing standing unnoticed.
Right next to that thought is the realization that it's all relative. How very small these things are, like landmasses. Or the planet itself. Think about it: If you stood far enough out from our globe that the Earth was about golf ball size in your view, how small would be that film of atmosphere clinging to its surface? Could you even see it? At that scale, it wouldn't take much to wipe it right off …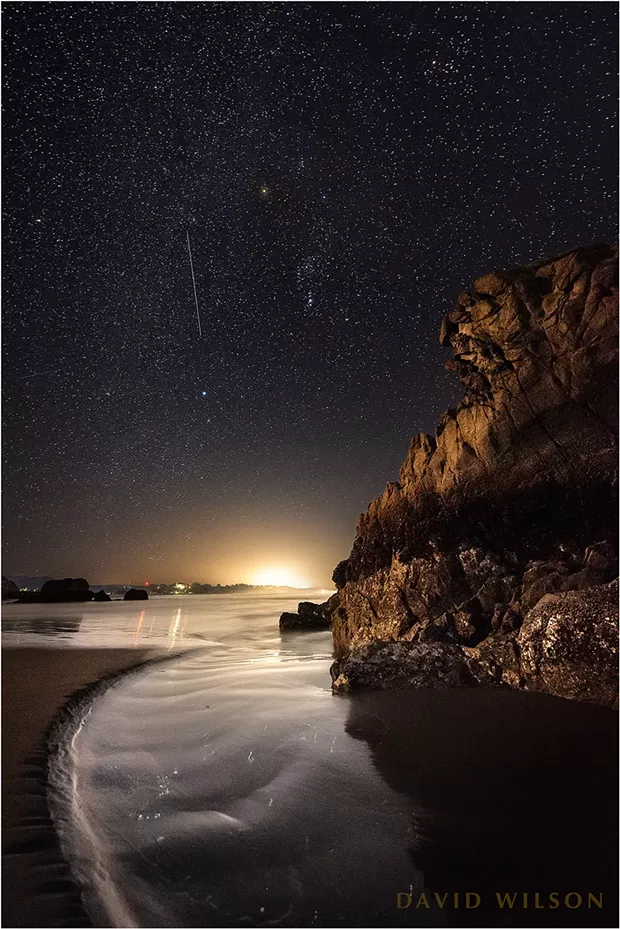 David Wilson
Lights from shore illuminate this great chunk of rock here where the wild coastline intersects with humanity. Above, a satellite's eye in the sky so high crawled slowly past Orion. Humboldt County, California. February 22, 2019.
It's easy to get lost in a feeling of tininess when I realize that everything we understand about the universe is, in fact, a ridiculously minuscule amount of information next to what's out there not yet understood, most of which will never be known by us. We learn and grow in our understanding of the universe around us all the time as we observe and experiment, but we will never be able to fit into our heads, nor into all the computer banks our civilization will ever produce, a complete model that describes it all. There are a lot of variables.
Surrounded as we are by hugenesses beyond our understanding, it is still possible to marvel at the wonders we find in the details down here at our scale. Yet, as I photograph them, my mind wanders again to things larger than I am. What seems permanent is in constant motion. Where our rugged coast meets the mighty Pacific, geologic and other erosive forces are forever at work, changing and reforming the shape of the coastline, grinding up the great rocks and cliffs and scattering them in the surf. Beneath it all tectonic plates bump and grind past each other, moving and shaking everything above. Civilization clings to an illusion of permanence as everything inexorably changes around it, hustling and bustling and shining its lights into the night. But civilization itself has only existed for the blink of an eye, on a pinprick of a world orbiting a small star in a galaxy full of stars, in a universe full of galaxies.
David Wilson
Looking north toward Trinidad and Trinidad Head from Houda Point Beach, Humboldt County, California. This is actually a little west of north, as you can see from the arc of the star trails that the North Star, Polaris, would be above and to the right of this view. The star trails closer to the cloud layer appear to break up in places due to being partially obscured at times by the moving clouds. Like a skylight cover the cloud layer slid until the stars were replaced by grey. Same thing happened to my hair.
To keep abreast of David Wilson's most current photography or peer into its past, follow him on Instagram at @david_wilson_mfx or his website mindscapefx.com, where you can also contact him, but which Wilson says he updates less frequently.