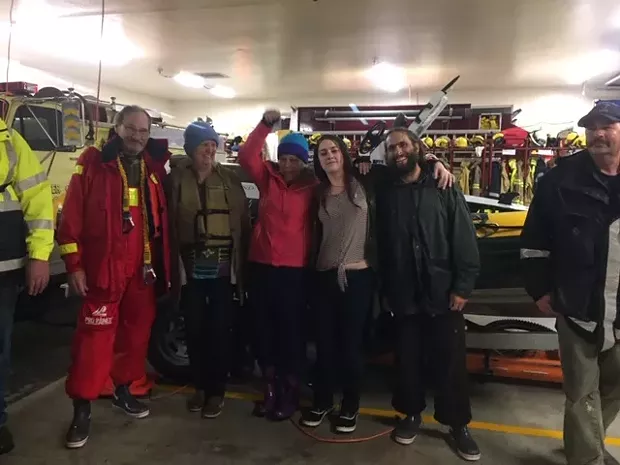 Photo by Cheryl Antony
Shelter Cove rescue team joins the trimaran crew for a celebration photo.
A trimaran called the Midnight Sun struck rocks near Shelter Cove last night and the crew had to escape on an inflatable boat and make their way into harbor through the storm, said Cheryl Antony of the Shelter Cove Fire Department.
"Something happened to their boat. … They sent out a distress signal at 9:30 p.m.," Antony said. "It was pouring and foggy."
In the darkness, Antony could hear the waves beating on the beaches and she said she was afraid that not even the Coast Guard, which had also been called out, would be able to find the crew in time.
But, the three boaters from Texas and two from Fort Bragg managed to navigate to a Shelter Cove beach, where rescuers met them and got them into dry clothes.
"They had nothing with them except the clothes on their back," Antony said.
Antony said the boaters told her, "We lost our ID, our purses, but we're alive." She added, "It so could have ended bad with that weather."
Photo by Cheryl Antony
The Midnight Sun was found beached.
The trimaran, which the crew had been taking from Fort Bragg to Portland, was found beached this morning.
The Shelter Cove rescue team put the trimaran boaters into motel rooms last night and today, they'll try to help get them home.