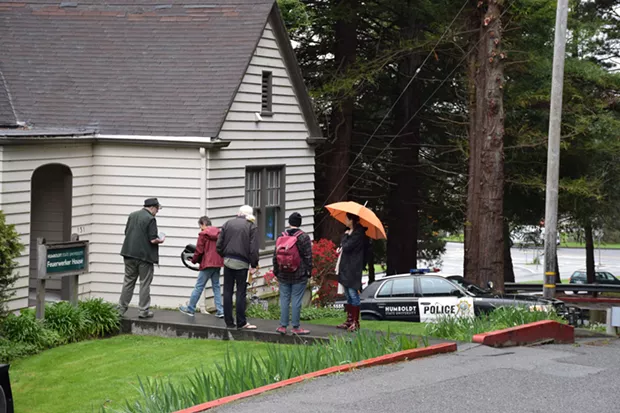 Thadeus Greenson
KHSU staff and volunteers speak with passersby shortly after learning Humboldt State University administrators had decided to gut the station's staff and suspend almost all volunteer programming indefinitely.
The first sign arrived yesterday afternoon, when KHSU staff members received an email from Craig Wruck informing them there would be a mandatory meeting for all paid staff today at 9 a.m.
"I apologize for the extremely short notice, but this is an important meeting," Wruck wrote.
When staff arrived for the meeting this morning at the new studio space in Feuerwerker House, however, they were separated. Morning Edition host Natalya Estrada and Development Director David Reed were sent to another building on campus, where they were informed of the changes and the fact that they would be the only staff members spared in the reorganization, with Reed being named interim station director. Meanwhile, Wruck was informing the balance of the staff that their positions were being eliminated, effective immediately.
As this was happening, 32-year volunteer Ed Campbell, who hosts "A Wandering Ear," showed up to prepare for his 10 a.m. show to find his keycard no longer worked.
Mark McKenna
KHSU's studio.
He knocked and Wruck reportedly agreed to let him in to do his classical music show. He played about an hour's worth of music before putting on Russian composer Igor Stravinsky's "Requiem Canticles." As it played, he walked out, later explaining that Wruck and administrators could deal with the dead air. Campbell said he chose "Requiem Canticles" as the last thing he'd ever play over the station's airwaves because it was the last significant piece Stravinsky composed and has "a bunch of finality to it."
Outside, KHSU Producer Jessica Eden smiled and hugged volunteers who stopped by to inquire what was going on. A University Police Department patrol car sat parked nearby.
"It was a great station and we really put our hearts into it for years and years," Eden said. "They've just destroyed a beautiful community resource. Shame on them."
The upheaval included Peter Fretwell, whose tenure as general manager was
fraught with controversy
after the sudden firing of longtime program and operations director Katie Whiteside in May.
Along with the staff reductions, which the university press release states will result in "significant savings," all volunteer-run programs are under "indefinite suspension."
Eden pointed out that administrators announced this decision just days after KHSU finished a community pledge drive trumpeting how listener's donations would support local programing. The pledge drive hadn't fully met its goal but was widely considered to have been successful, staff said, noting that some donors and sustaining members who had walked away from the station last May in the wake of the controversial firing of longtime program and operations director Katie Whiteside firing had come back.
"Then they do this right after they took people's money," one volunteer grumbled.
Eden said she asked Wruck during the morning meeting what would happen to KHSU's programming schedule with staff eliminated and volunteer programming suspended indefinitely, and he replied that syndicated programming would be put in its place. She took this to mean that today's announcement had been in the works for some time.
Two minutes after HSU went public, Fretwell sent an email at 9:33 a.m., to all KHSU employees and volunteers announcing the changes. He noted that programming produced under the umbrellas of other nonprofits — citing EcoNews and Humboldt County Extension Services as examples — will be allowed to continue "during this transition time" and asks them to contact Reed to make arrangements.
"To all our volunteers — thank you for your hard work and your years of service and commitment to our community," Fretwell wrote. "David Reed will be in touch with you regarding any personal music or other personal items you have at KHSU."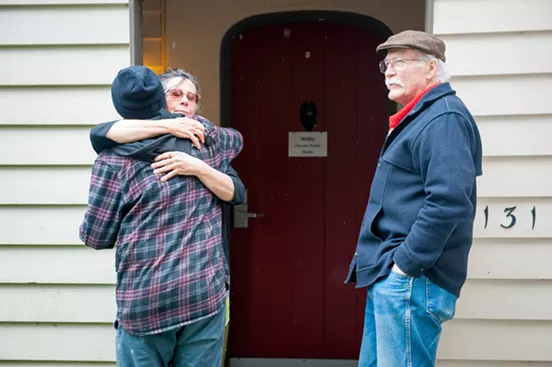 Mark McKenna
Danielle Orr, a 39-year volunteer at KHSU, hugs intern Damian Jimenez outside the station's office in the Feuerwerker House. Jimenez is a communications major and journalism minor who said KHSU was one of the things that drew them to Humboldt State University.
Whiteside was in shock this morning as news of the turmoil enveloping the station where she spent nearly 25 years spread in a growing series of social media posts and texts. As she scrolled through the responses on her phone while sitting in the
Journal
's office, a picture of what had just unfolded was slowly coming into focus.
One thing was clear: The community-based model that had sustained the station for decades was abruptly changing — likely for good.
"If you look at schedules of NPR (National Public Radio) stations across the country, we were very different," she says of the focus on unique local programming rather than syndicated segments, adding that each time a new general manager was hired, the same questions were raised about the format, which was considered outdated by some. "It just kept working here in Humboldt County."
Community members were quick to make their displeasure with the sudden shake up known, with many — like Eden — noting how it came just one week after the pledge drive and making renewed calls for those who had donated to withdraw their support.
Similar actions were taken after Whiteside's ouster, resulting in the postponement of a previously scheduled June fundraiser.
The university moved swiftly in response to today's announcement. The staff list on the KHSU website listed just Reed and Estrada when the
Journal
checked at 10 a.m. Similarly, the "history" section was updated to include a mention of the 2019 "reorganization" inserted in the second paragraph. The KHSU Facebook page was taken down by the afternoon.
"Obviously it's a tough day for everyone at the station," Estrada told the
Journal
. "It's very emotional and it's very uncertain as to what will happen next."
In today's public announcement, the university cited an
April 8 advisory report
on KHSU's operation, which was conducted by the office of California State University system's vice chancellor and chief audit officer at the behest of HSU President Lisa Rossbacher.
The conclusion states that the station "provides an important service to the surrounding community" but KHSU also "appears to have drifted from the station's initial purpose" of providing training and course work opportunities for students to "the current object of providing education and entertaining programs to the community."
KHSU's roots date back to the 1930s and one of its iterations — KHSC — became the first licensed non-commercial FM station in the California university and state college systems.
The 18-page CSU report goes on to make a number of recommendations, including evaluating KHSU's mission and goals, organization and oversight and use of social media accounts. Also suggested were finding ways to facilitate better communication between staff and management, a review of payroll arrangements and updates to job descriptions for the staff.
Several recommendations focus on tightening up access to facilities and equipment and addressing past lapses by coming up with protocols to deal with the risk of lost or unreturned keys.
On the issue of KHSU's budget and finances, the report notes that the university made a one-time allocation of $135,000 to cover shortages in the 2017-2018 fiscal year and recommends "the university evaluate the level of funding KHSU receives from the state and ensure that budgeting practices involve realistic projections."
In closing, the report states that the reviewers "suggest that the university consider practices used by other stations serving the CSU and identify and evaluate opportunities to reduce the costs of operating KHSU and improve the public service provided by KHSU to the regional community."
University Associate Vice President Frank Whitlatch said he's not sure when the decision was made to eliminate most of KHSU's staff and indefinitely suspend the bulk of its volunteer programming. But he confirmed that arrangements have been made with another NPR affiliate to provide KHSU with programming, as necessary, to fill any potential dead air created by today's announcement, which appears to gut much of the station's programming schedule. This afternoon, the station was airing programming from a station in Chico, which is in the midst of its own pledge drive.
Whitlatch said KHSU employees were given two weeks' severance pay, with the exception of Fretwell and Kevin Sanders, the station's engineer, both of whom are state employees and subject to different processes.
Fretwell has been out of the office for at least several weeks on family leave, Whitlatch said, adding that he has done some remote work during that time, both with station staff and HSU administration.
As to the timing of today's announcement, Whitlatch said HSU administration has been grappling with issues surrounding KHSU for some time. While the CSU audit arrived this week, Whitlatch said he believed HSU administration had been in touch with the CSU auditors prior to receiving the final report.
Asked whether today's announcement stemmed primarily from budget concerns or the results of the audit, he said, "It was all of those issues combined that led to this decision."
KHSU staff took issue with the university's charge that the station's "community support has been flat or declining, with underwriting revenue down approximately 14 percent for the year and listener support down approximately 17 percent." They point to the administration's controversial decision to fire Whiteside as the reason those numbers plummeted.
And it seems those numbers are now poised to dip further, as a number KHSU members are pledging to pull their support for the station after today's news. Among them is Wildberries Marketplace, long one of the station's biggest supporters.
"Wildberries has canceled all KHSU underwriting effective immediately," the store's president and founder Phil Ricord wrote in a Facebook post. "As KHSU's largest underwriter, Wildberries is shocked and saddened by this unilateral and ill conceived action. Our hearts to out to all volunteers and staff who have contributed to what used to be our community radio station. This is a dark day."