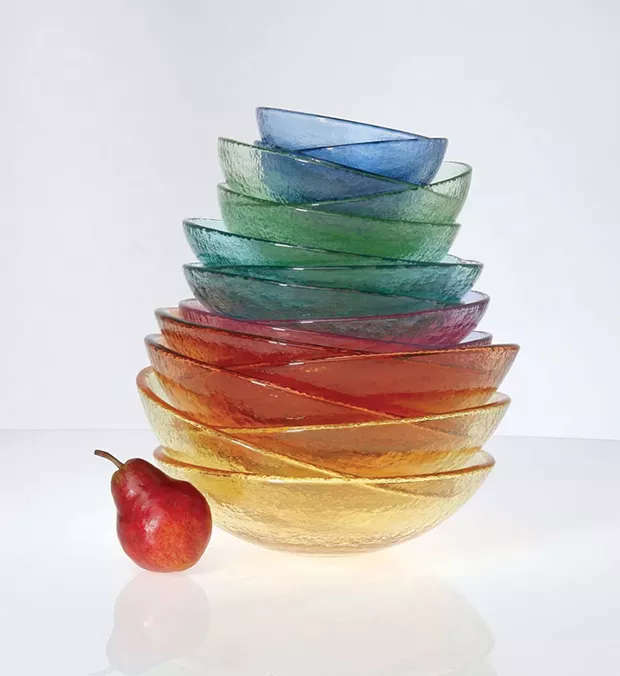 Courtesy of Fire & Light
Fire & Light is closing.
Fire & Light, an iconic Humboldt County business story that mixed creativity with sustainability, is closing unless a buyer can be found.
According to a Facebook page post today, the Arcata-based company known for its colorful glassware "is no longer financially feasible for the company to continue to operate without another significant investment of cash" due to a number of factors.
"At one point, Fire & Light glassware was carried in over 1,100 stores around the country. During the great recession, nearly 500 of those stores closed," the post states. "Other market factors also have changed significantly since the recession, causing rising overhead costs, dwindling markets, and supply chain complications. Unfortunately, the company never fully recovered from those difficulties despite improved economic conditions."
The note from owners John and Natali McClurg says they tried to postpone the decision as long as possible and tried to keep the doors open, but the company will be selling its remaining inventory at its showroom through Saturday.
The McClurgs thank their employees — saying they are like family — and the community for its support. They also said they are continuing to search for a buyer.
"Fire & Light has recycled over 9 million bottles and jars and turned what was once thrown into the garbage into beautiful glassware that now adorns tables around the country," the post states. "We could not have done that without ALL of you."
Read the full Fire & Light Facebook post below:
Fire & Light Closing Announcement and Inventory Clearance Sale:

It is with great sadness that we announce Fire & Light is closing. Due to a number of factors, it is no longer financially feasible for the company to continue to operate without another significant investment of cash. At one point, Fire & Light glassware was carried in over 1,100 stores around the country. During the great recession, nearly 500 of those stores closed. Other market factors also have changed significantly since the recession, causing rising overhead costs, dwindling markets, and supply chain complications. Unfortunately, the company never fully recovered from those difficulties despite improved economic conditions.

We postponed the decision to close as long as we were able, and arrived at this conclusion only after immense consideration and effort to save the business. The company has curtailed production, but will continue to sell its remaining inventory at its showroom in Arcata through this Saturday April 27th and on its website for a few more days or until we are sold out.

We have been honored to work with a great group of people here at Fire & Light. We are like a family. Many of us have worked together for more than 15 years – and in some cases, more than 20. Fire & Light's employees are talented, hard-working people who gave it their all. They put their hearts and souls into making a good quality product and taking care of our customers. We are forever grateful for their hard work and dedication.

We have also been blessed by tremendous community support and we thank you. Thank you to all our customers who purchased our glassware and continue to use it every day. Thank you to our suppliers, vendors, landlords, economic development agencies, the City of Arcata, lenders, friends and supporters. You all have been patient, supportive, and encouraging.

Fire & Light has recycled over 9 million bottles and jars and turned what was once thrown into the garbage into beautiful glassware that now adorns tables around the country. We could not have done that without ALL of you.

In the meantime, we will continue looking for a potential buyer to purchase the company. The company is selling off its existing inventory of glassware to pay down existing debt in an effort to facilitate a possible transition to a potential new buyer.

This may be your last chance to get Fire & Light glassware made right here in Humboldt County. All First and Second Quality glassware is for sale. We look forward to seeing you and sharing stories and memories at our inventory clearance sale. Please help us do everything possible to put the company in the best position to continue to operate in Arcata under new ownership and preserve the jobs of our wonderful employees.

From the bottom of our hearts …THANK YOU!

John & Natali McClurg

For inquiries please contact John McClurg at jmcclurg@fireandlight.com