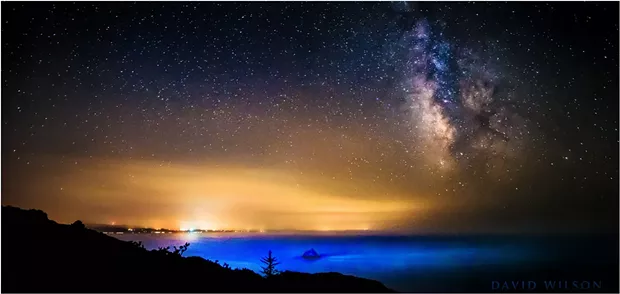 David Wilson
The Milky Way looms over the Pacific Ocean, standing out over the smoky, misty air along California's North Coast. Smoke from inland fires lingered in the sky. August 2015.
At the end of the summer of 2015, my brother and I were out around midnight on a great rock overlooking the Pacific Ocean, enjoying the view between ourselves and the rest of the Universe. Fires inland had been burning for weeks, their pall of smoke glowing orange in the sky to the south of us, illuminated from below by the lights of coastal Humboldt County habitations. From out of our view in front of us, a lighthouse cast a cold blue light onto the Pacific to contrast with the orange color of the smoky sky. Above it all, rising from the fog of smoke and ocean mists loomed the Milky Way, a great galactic structure in the sky reminding us of our small part in the cosmic dance around us.
The night sky is a precious gift, a window out into something much larger than we are, a view into the cosmic splendor of which we play such a tiny part. It's a window denied to those who reside in the city, but we on the California North Coast are fortunate to live where there are few major light sources at night and we can easily get away from them to enjoy rich starry skies. Here we find the natural beauty of the Earth by day, and at night we have the majesty and beauty of the universe to behold. It doesn't get much better than that for those who love the natural world.
I think we often think of the "world" as being the Earth and the environment around ourselves that we can master, as if we were the largest part of a smaller world. And that's fairly true about our immediate surroundings. We are very large on Earth in terms of our control over its environment. But when you look at the night sky and really think about the scale of things Out There, of distances so great that light takes years, or millions of years or more to cross between points, of spaces so vast that they can hold countless galaxies the size of our Milky Way galaxy… well, it's possible to feel very small, very small indeed. We aren't masters of anything, or not anything much, for our whole world is but a speck that we are riding like a flea on a dog — adrift and completely beyond our control in outer space.
I often find myself out beneath the starry sky, and thoughts like these eventually find me; if not while I'm out there, then as I lose myself in the photographs or write about them later. It is a real pleasure to share these glimpses into the night, that time that for half of our lives is our open window into the greater Universe all around us.
To keep abreast of David Wilson's most current photography or peer into its past, follow him on Instagram at @david_wilson_mfx or his website mindscapefx.com, where you can also contact him, but which Wilson says he updates less frequently.