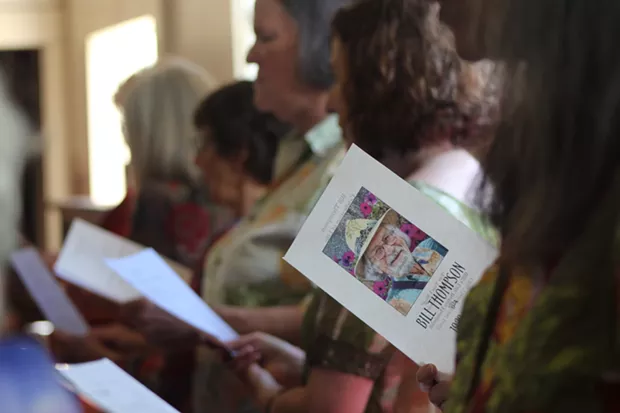 Photo by Natalya Estrada
A member of the Threshold Choir opens up Thompson's memorial program where lyrics to the song "Walking Each Other Home," is printed. The group and attendees ended the memorial service arm in arm while singing this song together.
Bill Thompson was a man of love, compassion and a commitment to peace that
never wavered in his later years.
Born in San Francisco on May 28, 1929, Thompson died at his Bayside home
on Dec. 24 at the age of 89. He graduated from Vista High School in Southern California and went on to earn a BA in economics at Knox College in 1951. He then
served in the U.S. Army from 1951 to 1959 and after being honorably
discharged studied at Stanford University for his MBA.
Photo by Natalya Estrada
Rob Hepburn of Veterans for Peace talks about Bill Thompson's generosity and kindness throughout his life. Hepburn said Thompson was like a "big brother" to him.
"Bill was badly wounded in the battle at Pork Chop Hill in Korea," Rob
Hepburn of Veterans for Peace said in describing Thompson's years during
and after serving in the U.S. Army. "But then, amazingly, he went on to live
a long life of empathy and passion."
Every Friday at noon since 1994, Thompson would stand in Arcata Plaza. This was
part of a silent vigil in solidarity for all the victims of war. In 2005,
he began to bring a bell to represent all people who were killed or hurt in
different wars. These were his rallies for peace and justice. Rallies
that would inspire and encourage thousands throughout his years in Humboldt
County and beyond.
Hepburn said he first met Thompson in 1991 at the founding meeting of
Veterans for Peace Chapter 56 in Humboldt County.
"I remember that Bill paid for my first year of membership dues out of his
own pocket," Hepburn said, recalling that Thompson was involved in numerous
other causes and groups such as the Jacoby Creek Land Trust, Bayside
Community Hall, 805 Men's Group, Redwood Roots Farm, Humboldt Unitarian
Universalist Fellowship, Friends of the Arcata Marsh, Blue Ox Historic
Village & Veterans Projects and Folklife Farm Vision.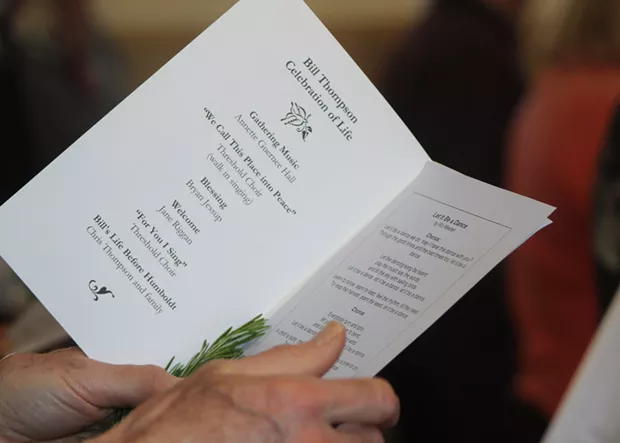 Photo by Natalya Estrada
Guests were given Rosemary to accompany their program guide which organizers said is the herb of memory.
Hepburn, when reached by phone, said Thompson was like a big brother to him
and someone who genuinely cared for the community and welfare of others.
During Thompson's memorial on Friday, hundreds of people showed up at Bayside Community Center to honor and remember him and his many contributions. They were joined by the Threshold Choir, whose members sang multiple songs to celebrate his life and legacy within the Humboldt community.
Photo by Natalya Estrada
Jane Riggan, Thompson's partner of five years, speaks to the Heart and Mystery of Bill.
"He delighted in walking on the sand and wet grass in his bare feet and was
intrigued by the language of crows and magic of hummingbirds — which were his
totem animal," his partner Jane Riggan said of him at the memorial, her eyes twinkling as she held back tears. "Most of the time I was with him, he believed he was immortal, however, when his heart made it apparent that this was not the
case, he graciously shifted gears."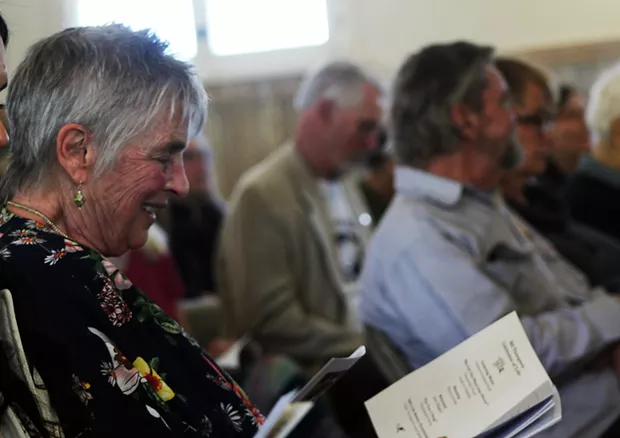 Photo by Natalya Estrada
Jane Riggan sits with family as she remembers Bill Thompson at his memorial on Friday.
Riggan's voice started to break but she continued to describe Thompson as
the most gracious person she's ever known.
"No matter what he was wearing or doing, there was an elegant presence
about him. In spite of that, he could also be silly and playful and would
even roughhouse sometimes," she said.
Riggan was Thompson's partner for five years. Prior to that, he was married
his first wife, Maureen Lavendar Thompson from 1952 to 1968 and they had
five children: Chris, Cindy, Scott, Jay and David Thompson. In 1989, Bill
Thompson met June, his late wife, in Palo Alto. They married in 1970 and
moved to Bayside in 1986.
Thompson's son Chris spoke at the memorial about his father's love for
family, friends and community.
"I know my dad was very well loved in this community, but I'm totally blown
away," Chris Thompson said, reflecting on his father's history, where he
was born — in San Francisco — and where he grew up — in Vista — and where
he decided to spend the rest of his life — in Bayside.
Photo by Natalya Estrada
Chris Thompson talks about his father's love for the Humboldt Community and how he touched so many lives with his compassion and love.
"He played his guitar and sang every morning. He went from a warrior to a
peace activist," Chris Thompson said, noting that his father, along with his late wife June, were involved in anti-nuclear marches, activism for which they were jailed several times.
Chris Thompson ended his remembrance with a quote he found on his father's desk after he died: "A thing is right when it tends to preserve the integrity, stability and beauty of the biotic community. It is wrong when it tends otherwise."
"And that's the way my father looked at life," Chris Thompson said. "Not just land, but with all of us."