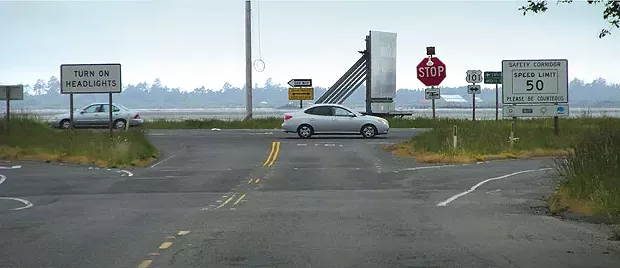 Courtesy of CalTrans
Existing view westbound at Indianola Road.
UPDATE:
On the heels of the California Coastal Commission's request to staff to delay a hearing on Caltrans' U.S. Highway 101 Safety Corridor improvement plan, Caltrans released a statement this afternoon indicating it hopes delaying the hearing by two months will not impact its construction timeline.
"If the Commission were to delay their meeting on this subject until August the goal of beginning construction by summer 2020 is likely still reachable but it will certainly cut things close," reads the statement, which is copied in its entirety below the original post.
PREVIOUS:
The California Coastal Commission requested this morning that its staff shelve plans to hold a June hearing on Caltrans' proposed plans to overhaul the Safety Corridor on U.S. Highway 101 between Eureka and Arcata and, instead, to agendize the hearing for the commission's August meeting in Eureka.
"To staff, without a doubt, this project is incredibly important if anyone has ever been in that neighborhood," Commissioner Donne Brownsey said. "That is just the lifeblood of moving around in those communities. … If there is not meaningful community consultation, it is just going to be a terrible situation."
The commissions' vote to recommend staff postpone the hearing came after it received
a number of letters
from North Coast individuals and organizations requesting the move. Surfrider Foundation California Policy Manager Jennifer Savage also addressed the commission during its public comment period.
Savage said the project — which seeks to spend roughly $35 million to build a new interchange at Indianola Road, replace the Jacoby Creek Bridge, add a stoplight at Airport Road and close all other medians on the roughly 7-mile stretch of highway — is complex and decades in the making.
"Our community really deserves a chance to weigh in," Savage said, before charging that Caltrans' plans have so far failed to analyze the impacts construction will cause to alternate routes, like Old Arcata Road and State Route 255 through the Samoa Peninsula.
Savage also criticized the project's review for not addressing projected sea level rise, and charged that Caltrans' public engagement efforts have been inadequate.
CCC North Coast District Manager Bob Merrill told the commission that staff has repeatedly expressed its "strong preference" that the issue be heard in August in Eureka, but that Caltrans is concerned that holding the hearing after the June 30 close of the fiscal year could jeopardize funding allocated for the project. But even aside from concerns about making sure North Coast residents have the opportunity to offer public testimony without travelling 750 miles to San Diego, Merrill said the project was not on track to be heard next month.
"Frankly, at this point, it's very doubtful the project will be really ready for consideration at the June meeting," Merrill said, adding that Caltrans' application is still missing "key" information, including a "viable mitigation plan."
One of the commissioners asked if this project has been in planning for more than a decade, why it's seemingly being rushed to a hearing. Caltrans Division of Environmental Analysis Assistant Division Chief Jeremy Ketchum said the agency has been conducting outreach efforts dating back to 2001.
"There hasn't been a lack of engagement," he said flatly, adding that the agency held an April 23 public meeting to take feedback from the North Coast community.
But that meeting came at the direction of the coastal commission, and many charged it was inadequate, provided limited information and didn't detail the agency's plans.
One coastal commissioner asked Ketchum where people could go to get detailed, up-to-date information on the project. Ketchum said there's a project webpage. But a quick perusal of the
page
indicates the bulk of the documents are years-old. And a
fact sheet
on the page describes the project in only the briefest of terms:
"Since May 2002, a Safety Corridor has been in place on Route 101 between Eureka and Arcata as an interim improvement until a more permanent solution could be designed and constructed. In December 2011, a phased plan received approval by the Humboldt County Association of Governments, the project sponsor. The first phase of improvements includes a half-signal at Airport Road and a northbound grade separation at Indianola Road. All other median openings including Mid City Motors, California Redwood, Bracut, and Bayside Cutoff will be closed."
Other
aspects of the project site
appear as though they have not been updated in a decade.
After the commission made the unanimous request that staff reschedule the hearing, CCC Executive Director Jack Ainsworth described the situation as "incredibly disappointing," saying it is not how the commission's relationship with Caltrans "should be working," stressing the importance of local hearings for "these larger projects."
In other matters of local interest, the commission voted unanimously to approve a
modified local coastal plan amendment
for Humboldt County's commercial cannabis ordinance.
Commission staff detailed how the ordinance works to mitigate commercial cannabis operations' impacts on coastal resources, from views to water quality, and Humboldt County's treatment of cannabis as a "highly regulated specialty crop" that requires a conditional use permit rather than a principally permitted agricultural crop.
After a motion to approve the modified amendment passed unanimously, Commission Chair Dayna Bochco wondered aloud whether it could be a model for other counties, noting the commission has heard concerns from other parts of the state about unintended impacts of cannabis, from odors to its displacing other crops.
"I didn't even know pot smells when you grow it. I thought it only smells when you smoke it, which I don't," Bochco said, drawing laughs from the audience, adding that perhaps other jurisdictions should be looking at cannabis as a more specialized crop rather than a general agricultural issue.
From Caltrans:
Caltrans District 1 continues to prioritize highway safety for motorists, pedestrians, and cyclists throughout the North Coast. While no meeting delays have been finalized the Department remains committed to its partnership with the Coastal Commission and is striving to begin constructing safety improvements on U.S. Highway 101 between Eureka and Arcata by summer 2020. If the 'Commission were to delay their meeting on this subject until August the goal of beginning construction by summer 2020 is likely still reachable but it will certainly cut things close. If such a meeting delay were to occur Caltrans District 1 would then prepare and release a timeline showing just what needs to occur in order to still begin construction by summer 2020.