Freddy Brewster
Reverend Daniel London opens the Town Hall event at the Christ Episcopal Church with an acknowledgment of Jesus Christ and his alignment with homeless struggles.
Gathered in the Christ Episcopal Church on a windy and wet Saturday afternoon, nearly 40 people talked about homelessness and the need for transitional housing in Humboldt County.
Under the stained-glass windows and vaulted ceiling of the nearly 150-year-old church, Reverend Daniel London and his wife Ashley London Bacchi helped facilitate conversations with a panel that included Betty Chinn, Eureka Police Department Sgt. Leonard La France, Eureka City Councilmember Kim Bergel and others who are on the front lines of addressing the area's homeless people and their impacts. The event was put on by True North Organizing Network, a faith-based nonprofit that focuses on community issues and providing every person with "the opportunity to be heard and respected."
"We are really excited to hear stories in our community about this issue and to bring a face to housing needs," said Eve Robinson, a facilitator and leader with True North. "If we could change even one mind about housing in our area, then that was our goal."
Robinson has been with True North for three years and said it is her faith that drove her to get involved. Reverend London ushered in the event with an acknowledgement of Jesus Christ and his alignment with the homeless and their need for support. The first to speak at the event was Chinn, who said she has been volunteering and helping the homeless for 36 years and was drawn to helping the homeless after the death of a man with AIDS. Chinn said this event sparked her drive to build a place of respite for the homeless.
Freddy Brewster
Betty Chinn tells the audience at the True North Town Hall on Housing about her experience with addressing homeless issues.
"Over the years through being outside and through outreach, I have seen many people die, some just after chemo," Chinn said. "They are sick and they have nowhere to go and they are sleeping in bushes."
Chinn runs the Blue Angel Village on West Washington Street, which consists of five shipping containers "retrofitted into rooms, capable of housing up to 40 chronically homeless individuals and their pets for up to 90 days." Those who seek refuge at Chinn's village can find help accessing a number of services, such as the Open Door Clinic and computer and resume classes, while afforded the stability to get back on their feet.
"You have to teach them to support themselves, I can only be with them for so long," Chinn said.
Nancy Woods lives right across the street from Chinn's Blue Angel Village and said the people in the Village have been great neighbors. Woods said her neighbors need guidance and a hand up, but they also take pride in their jobs and cleaning up their community, and have never shied away from helping her.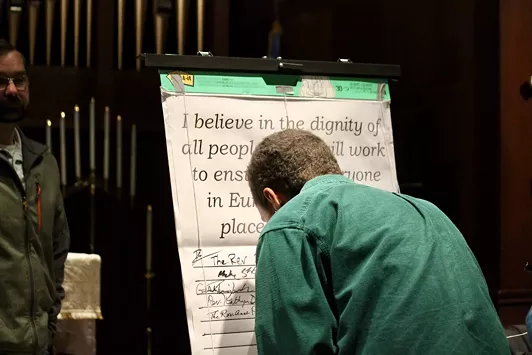 Freddy Brewster
An attendee signs onto the pledge stating "I believe in the dignity of all people and I will work to ensure that everyone in Eureka has a safe place to call home."
"They are very, very polite," Woods said to the crowd. "They have rules in the village and the staff keeps them on track. They keep the area clean and almost always have secure jobs, and they seem happy to make this a better place."
The biennial point-in-time homeless count identified 1,473 homeless people across Humboldt County, with 653 in Eureka alone. EPD's La France specializes in interactions with homeless people, while running the Community Safety Enhancement Team that started in July 2018. Since its start, La France said his team has been able to direct 28 people from the streets into treatment centers.
Freddy Brewster
Sgt. Leonard La France of Eureka Police Department addresses the audience during the True North Town Hall on Housing event.
La France wants to approach homelessness in a new way by going after the underlying issues, which he said fall into two main areas: addiction and mental illness. According to EPD's 2019 Homeless Survey, around 30 percent of local homeless people said they became homeless because of alcohol/drug abuse and 20 percent said they have been homeless for over 10 years.
"We look at every opportunity, even if we are just talking to them, as a chance for outreach," La France told the
Journal
. "A lot of these folks want to get to a better place in life and we are there to help them navigate if we can. It's not easy though."
In his interactions with the homeless, La France said most of them want quicker access to addiction services. La France said the window of opportunity to convince someone struggling with addiction to get clean is small and people need to capitalize on any chance they get.
"There is no one-box answer," he said. "Each individual is a person and you have to address it as one individual at a time."
One of the last to speak was Reverend Kathryn Dunning. Dunning mentioned the 2019 Housing Element and talked about its ability to address and help the homeless in the community. She asked those in the audience to attend the next Humboldt County Planning Commission meeting on June 6 and to voice their concerns during the public comment section.
"Dear heavenly Father, we ask for your wisdom and guidance," Reverend London said to the audience to finish off the event. He asked each person in the audience to sign onto a pledge to help those in our community.
It read, "I believe in the dignity of all people, and I will work to ensure that everyone in Eureka has a safe place to call home."