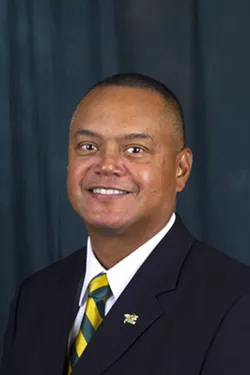 Submitted
Tom Jackson Jr.
The California State University Board of Trustees this morning appointed Tom Jackson Jr. as Humboldt State University's next president.
A military veteran and Seattle, Washington, native, Jackson will be HSU's first African-American president, coming from Black Hills State University in Spearfish, South Dakota, which he has helmed since 2014.
"There are few institutions that are as closely tied to the success of their respective communities as HSU," Jackson said in a press release. "A degree from HSU can lift the life of the person earning it as well as the lives of their family, and those degree holders drive the success of the entire North Coast. I welcome the opportunity to work with HSU's talented faculty and staff, alongside community members, to ensure that those life-altering opportunities are expanded for current and future students."
At first glance, Jackson appears suited to address many of the challenges at HSU. According to a
brief biography
on the Black Hills State University website, Jackson is himself a first-generation college student, having graduated with an associate degree from Highline Community College in Washington before receiving a degree in business management from Minnesota's Southwest State University. He went on to get a masters from Pennsylvania's Shippensburg University before getting a doctorate in educational management from University of La Verne near Los Angeles. He will now be taking over HSU, which has put an emphasis on recruiting first-generation college students and in recent years has enrolled them in record numbers.
In his years at BHSU, Jackson is credited with implementing service learning programs and cultural outreach. According to the BHSU site, the school "has increased its presence in the community, including membership on a diverse group of boards and committees as well as civic clubs and service organizations."
Another credited achievement that seems will be welcomed in Arcata is Jackson's having implemented BHSU's first solar/alternative energies plan and having updated the campus' climate action plan. He's also credited with having "enhanced the university's strong legacy of providing educational opportunities for American Indians, according to the site. He also is said to have led a fundraising effort for the university's foundation that led to record donations.
In his time at BHSU, Jackson also worked to enhance opportunities for military education, including a reduced tuition pilot program. Jackson himself is a veteran of the U.S. Coast Guard Reserve, the Army National Guard, the Texas State Guard and the Indiana Guard Reserve.
Jackson is also credited with what BHSU's site calls a "record level of internationalization and global engagement," having increased participation in study-abroad and service learning programs, and establishing global service learning sites in the Philippines and Botswana.
He will start at HSU in July, taking over for the
retiring Lisa Rossbacher
, whose controversial tenure began in 2014 and has been plagued by budget cuts — including the elimination of HSU's football program and the gutting of its public radio station, KHSU-FM — as well as allegations of poor community engagement and not having done enough to support students of color.
In his introductory remarks when hired at BHSU in 2014 (video embedded below), Jackson focused in part on student retention, which has been an ongoing challenge at HSU.
"If we can get you to this university, our job as a community, as a Yellow Jacket community, is to make sure that you finish here, however we do that," he said in the 2014 address.
Jackson then talked about his grandmother, a food service worker who only had an eighth grade education but wanted more for her children and grandchildren, and the values she instilled in him.
"Work hard. Help your neighbor. Be honest. And go to church," he said. "We look forward to being here and as your president I will certainly lead with honor, integrity and humility."
See the video and the full press release from the CSU below:
Tom Jackson, Jr. Appointed President of Humboldt State University

The California State University (CSU) Board of Trustees has appointed Tom Jackson, Jr., Ed.D., to serve as president of Humboldt State University (HSU). Jackson currently serves as president of Black Hills State University (BHSU) in Spearfish, South Dakota.

"There are few institutions that are as closely tied to the success of their respective communities as HSU. A degree from HSU can lift the life of the person earning it as well as the lives of their family, and those degree holders drive the success of the entire North Coast," said Jackson. "I welcome the opportunity to work with HSU's talented faculty and staff, alongside community members, to ensure that those life-altering opportunities are expanded for current and future students."

Jackson becomes the eighth president of HSU and the first African American to serve in that role. He will join the campus in his new capacity in July. Jackson succeeds Lisa Rossbacher who will be retiring at the end of June 2019 after serving as HSU president since 2014.

"Dr. Jackson has been an inspirational leader who has demonstrable success at the highest levels of university administration," said CSU Trustee Peter Taylor, chair of the HSU search committee. "Throughout his career, he has been a champion for access, quality and student success, all hallmarks of the HSU mission."

Jackson has been president of BHSU since 2014. He has held other leadership roles within higher education including vice president for student affairs at both the University of Louisville and Texas A&M University-Kingsville. He has also held administrative positions and served on the faculty at McMurry University, California Polytechnic State University, San Luis Obispo, the University of Southern California and St. Mary's University.

Jackson earned an associate's degree from Highline Community College, a bachelor's degree in business management/personnel from Southwest State University, a master's in counseling/student personnel from Shippensburg University and a doctorate of education from the University of La Verne. A first-generation student, Jackson is also a veteran of the U.S. Coast Guard Reserve, Army National Guard, Texas State Guard and Indiana Guard Reserve.

# # #