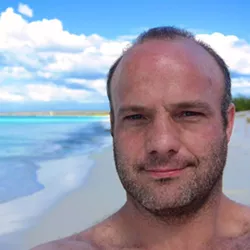 Facebook
Luke Patterson
Luke Patterson — the formerly local chef who opened Luke's Joint and The Other Place in Arcata — was fatally shot by New York State Police around 2 a.m. Thursday while walking along Interstate 84 in the town of Montgomery, according to numerous news reports.
Patterson, 41, was unarmed but shot multiple times.
The New York Attorney General's Office has announced it will investigate the shooting as a special prosecutor, as it does with all police killings of unarmed suspects in the state under an executive order signed by the governor in 2015.
According to Maj. Pierce Gallagher, troopers were responding to a call of a vehicle abandoned on the highway. They arrived to find Patterson's vehicle unoccupied, Gallagher said, but then quickly received a subsequent call reporting that a man was walking along the highway.
When the troopers found Patterson about a half-mile from his vehicle, one of the troopers got out of the patrol car to speak to him. For reasons that are unclear, Patterson kept walking and the trooper walked with him as his or her partner drove slowly alongside in the patrol car.
According to Gallagher, Patterson was not cooperative and refused to comply with several of the trooper's commands before he allegedly tried to get into the trooper's moving patrol car, at which point the other trooper opened fire.
Patterson was pronounced dead at a local hospital a short time later.
Under New York law, officers are only permitted to use lethal force when they reasonably believe it necessary to defend themselves or the public from what they believe to be the use of "unlawful deadly force by another person."
In addition to the state attorney general's investigation, the Orange County District Attorney's Office is investigating the shooting, while the state police are also conducting an internal investigation.
Patterson had recently relocated to Tannersville, New York, a village in the Catskills Mountains were his parents had a summer home, according to an article by the Associated Press. Patterson was reportedly renovating a house there to create a boutique wedding venue, according to the article.
Having studied at the French Culinary Institute, Patterson opened Luke's Joint — a breakfast and lunch place on the Arcata Plaza — in 2010 and opened The Other Place — an upscale dinner restaurant with a French-American menu on K Street — two years later. In his brief time on the Arcata scene, he was known as a passionate — and at times cantankerous — foodie. He was on the front lines of the clash between local businesses and Arcata Main Street over the nonprofit's handling of Oysterfest, particularly during the festival's fencing in 2013, which spurred threats of litigation from Patterson.
Patterson also hosted an annual Thanksgiving meal for the indigent at the Arcata Community Center and worked closely with local farmers to supply both his restaurants.
As word spread on social media of Patterson's death, locals responded with shock and sadness.
"Oh this breaks my heart," Sara Cate wrote on Facebook. "Luke employed me when I first arrived in Arcata. He was a kind and gentle soul."
"This is so terribly sad," wrote Brie Toroni. "I had the privilege of working alongside this man during many events. He was pure culinary talent, kindness, and more. I'm so sorry to his family and close friends. May he rest in peace."