There will be many words written and sentiments expressed in honor of Memorial Day, but none will be as significant as the thoughts and feelings, wishes and prayers we hold within ourselves. One's heart is a special place, and when we had our moments of silence this weekend it was in order to bring to that special place those parts of the outside world that strike us to our core, to make them forever a part of ourselves and to better ourselves through them. When we better ourselves, it improves the world.
I was a college student at Humboldt State University in 1991 when the Gulf War broke out, our first war against Saddam Hussein. As always, times of war bring with them much on which to reflect. I thought about this as I watched our country's people respond in so many varying ways. While I tend to do most of my reflecting on such things internally, the gamut of human expression is wide and other people will express themselves in any number of ways.
Some will raise their voices visually. Not long after the Gulf War started in 1991, a striking visual beacon was raised against the night sky along U.S. Highway 101 between Arcata and McKinleyville: a gigantic flag flying along the freeway, hoisted by crane and stretched taught by a cable anchored to a roller. Impressive by day, the giant flag's illuminated Stars and Stripes stood out spectacularly against the backdrop of night. It drew my photographic eye like a moth to a flame. I wanted to photograph it. I had no thought of speaking any messages with a photograph, only of crafting something visually appealing.
David Wilson
A giant U.S. flag flies beside U.S. Highway 101 between Arcata and McKinleyville, Humboldt County, California. 1991. Shot on 35mm film, this is an in-camera double exposure on a single negative; I made one exposure of the whole scene with the crane carrying the flag twisting in the wind. Then, without advancing the film, I took a telephoto shot of the flag filling the frame with its stripes flowing softly upward. The two images overlapped on the negative to produce this image.
The flag was flying from within the courtyard of a landscaping business. It was behind a locked gate at night, so I approached their office for permission and told them of my idea for photographing their flag at night. I said I thought it might look neat, and if it worked out I would bring them a print. The good people knew a good idea when they heard one, or maybe they just liked me, and they gave me the combination to the yard for me to come back to photograph their great flag. The photographs ended up coming out well, and I brought a matted print back for them. It was a little fairy tale all our own. I wonder if they still have it.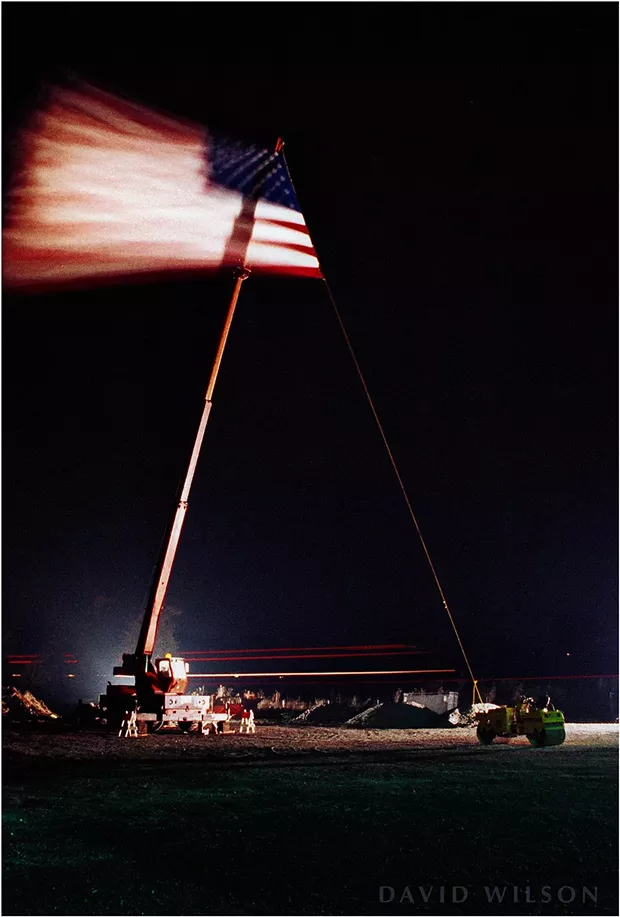 David Wilson
A single exposure of the flag blowing in the wind.
These images were photographed on Ektar 1000 35mm color negative film. Photographers today are spoiled rotten by the advantages of digital imaging. Oh, my goodness is it liberating. Millennials have no idea (well, the odd one will): imagine taking photographs and not being able to see them right away. You could blow an entire roll of crucial moments and not realize it until later. These nighttime flag images were blind experiments, and I couldn't tell if I were even close with their exposures. It's an extremely contrasty scene, and the camera's light meter could only help me guess the exposure times for these. I wouldn't know whether I'd guessed well until I had processed the negatives and seen them the next day. It helped that I was keeping exposure notes of my nighttime photography so I could hone my guesswork a little, bit by bit.
David Wilson
Exposure notes for the two flag images, negatives 18 and 20. I used a Nikon F4 camera, with a Sigma 28mm lens for the wide scene, and a Nikkor 35-135mm zoom to bring the flag in close for the double exposure.
To keep abreast of David Wilson's most current photography or peer into its past, follow him on Instagram at @david_wilson_mfx or his website mindscapefx.com, where you can also contact him, but which Wilson says he updates less frequently.