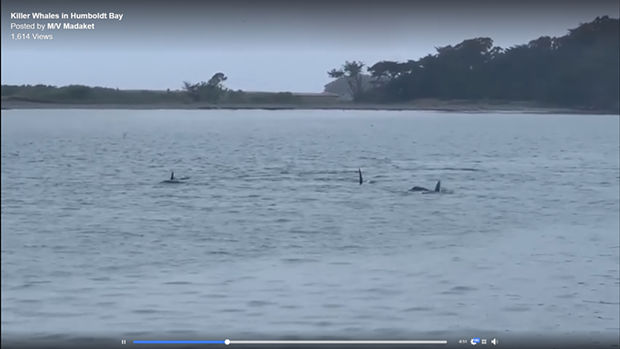 Screenshot from Madaket video
Orcas were spotted in Humboldt Bay.
UPDATE:
Biologist Mike Kelly, who writes the column
"Washed Up"
for the
North Coast Journal
, reported via Twitter that he also caught sight of one of the orcas but apparently missed seeing the pod catch a sea lion.
"The remaining sea lions did seem nervous," he says, showing a picture of several huddled on a buoy at the bay entrance.
All in all, it seems it was a busy day for marine mammals around the jetty.
Kelly also reports seeing harbor porpoises, a gray whale and some other sea lions that hadn't gotten the memo on the orcas, which appeared in Humboldt Bay just one day before the beginning of Orca Month.
PREVIOUS:
A rare treat greeted some lucky folks this morning, when seven orcas were spotted by the captain of the Madaket.
According to a
Facebook post
, the whales were seen over by the county boat ramp on the North Spit by Capt. Cody Hills, who was aboard the survey boat Eagle.