I remember when the rails in Humboldt County rumbled to the passage of great trains rolling regularly through the county. Looking back, I took far too little advantage of the photographic opportunities they afforded while their time and mine here overlapped. Now we have them in memory only, and photographing the remnants of their steel carriages and rusting rails evokes ghosts of a bygone day.
With thoughts of capturing some of that once mighty line's remains in the stark light of the modern night I found myself on the old railroad bridge over the Eureka Slough at the north end of Eureka, Humboldt County, California. Here the Old meets New, as this section of the former track is slated to become part of the Humboldt Bay Trail, connecting Eureka with Arcata for non-motorized traffic
(
https://humboldtgov.org/humboldtbaytrail
).
In photography's early days images were monochromatic, reproducing all the vibrant colors of a scene as a range of gray values from white to black. Film was an ideal medium for capturing history, and the early history it recorded lives on today as black and white images. For over a hundred years photography recorded a world without color for posterity.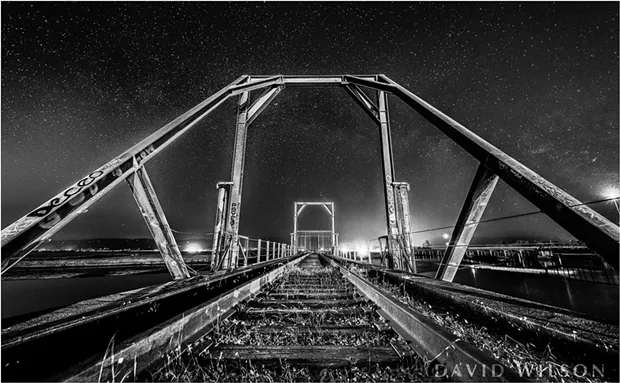 David Wilson
A night on the old Railroad bridge over the Eureka Slough at the north end of Eureka, Humboldt County, California. Trains thundered down these tracks regularly back in the day. Photographed June 7, 2018.
The way images are shown us can shape how we see the times and places they portray. My own vision of our history as recorded by early photographic images seems to be in black and white. When I think of the 1800s, I see scenes in black and white, or maybe in sepia's warmer, but still monochromatic tones. People lived in a world every bit as colorful as ours, but my imagination of it has been influenced by my exposure to so much history presented as black and white images.
The images I am sharing here were photographed with a modern digital camera, which of course records a scene in color. But to present them here in black and white it helps bridge the gulf of time between my recent night on the bridge taking pictures and the days of yore, not all that long ago, when the trains whistled and chugged through the towns and countrysides of our North Coast.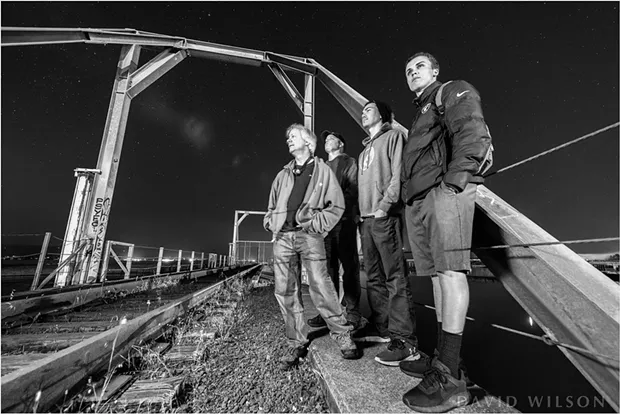 David Wilson
My son, my brother and his son and I wait beside the Eureka Slough railroad tracks. It doesn't always feel safe out there at night, whether due to thoughts of unfriendly people or ravenous beasts, so I was grateful to have the company of family while photographing.
When I become absorbed in a black and white photograph, I can feel my mind processing in the background, asking whether the image is grayscale (black and white) because it was captured that way, perhaps before color film, or whether it had been created in color and then made into a black and white as these photographs were. It's not important to the image itself, but the history is something that interests me.
To keep abreast of David Wilson's most current photography or peer into its past, visit or contact him at his website mindscapefx.com or follow him on Instagram at @david_wilson_mfx .