Redwood Coast Tsunami Work Group
The seismograph at Humboldt State University recording of the quake.
In case you haven't heard — or didn't feel what most of the county did on Saturday night —
there was an earthquake
. And a good-sized one at that. But just one.
The magnitude-5.6 that struck 3.7 miles off Petrolia was, according to the Redwood Coast Tsunami Work Group, what is known as a "strike slip" — when the ground moves in a vertical motion — and was likely associated with the Mendocino fault.
In his assessment of the temblor,
geologist Jay Patton
notes that "contrary to what people have posted on social media, there was but a single earthquake."
In the immediate aftermath of the quake, the U.S. Geological Survey website showed the temblor as a 5.4 that struck near Rio Dell. Within minutes, the site had re-posted with a more accurate description of the earthquake. It's not uncommon for initial reports to err somewhat in locations and magnitude but some local residents and media outlets took the double post to mean what North Coast residents felt had been two simultaneous quakes.
A magnitude-3.3 had hit nearby about 30 minutes earlier.
In his report, Patton says the forecasts finds a less than 1 percent chance of aftershocks larger than the original quake, but smaller aftershocks of a magnitude 3 or higher are likely in the next week.
"Magnitude 3 and above are large enough to be felt near the epicenter," he writes. "The number of aftershocks will drop off over time, but a large aftershock can increase the numbers again, temporarily."
As the
Journal
reported Saturday, there was some minor damage reported, including merchandise thrown off the shelves at stores in Redway and Garberville.
According to the Humboldt Earthquake Hotline, the magnitude-3.9 earthquake that hit 29 miles off the coast on Sunday around 3:30 p.m. was not an aftershock but "may have been triggered by stress changes caused by the larger earthquake."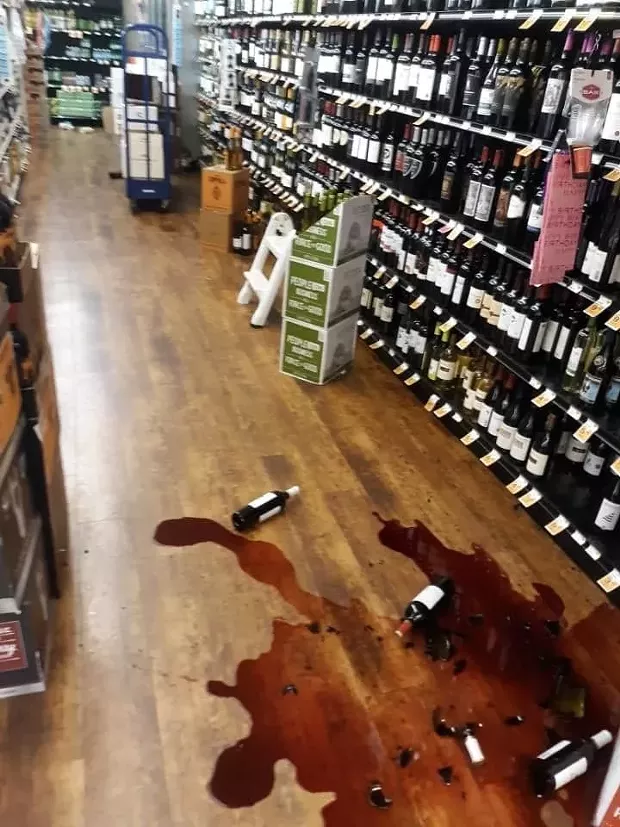 Submitted
Wine spill in Redway after the quake.
The region where the quakes occurred is one of the most seismically active in the continental United States, including
the April 25, 1992, earthquake
— a magnitude-7.2 that shook the ground with a force never before recorded in California and laid the groundwork for the creation of the National Tsunami Mitigation Hazard Program.
Meanwhile, the ground shaker on Saturday was strong enough that Caltrans reported via Facebbook that maintenance crews went "to inspect bridge structures in the Rio Dell and Fortuna areas to ensure there was no damage, and none was found."
Caltrans also examined the historic Fernbridge, which was fine, as well.
And, since any day here in Humboldt could bring another, even larger earthquake, it's always a good idea to be prepared. Find more information
here
.