submitted
Cutcha Risling Baldy accepting her award.
Humboldt State University Native American Studies department chair and
Journal
contributor Cutcha Risling Baldy's first book was just honored at the Native American Indigenous Studies Conference in New Zealand.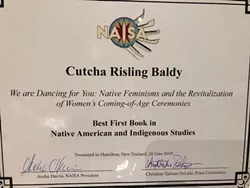 We are Dancing for You: Native Feminisms and the Revitalization of Women's Coming-of-age Ceremonies
was named the Best First Book in Native American and Indigenous Studies on Friday night at the conference, which draws more than 1,000 scholars working in the fields of Native American and Indigenous studies throughout the world.
If Risling Baldy's book sounds familiar, it should. The
Journal
ran an excerpt from it as our Aug. 2, 2018, cover story, "
The Flower Dancers
." We suggest you check out the excerpt here and pick up a copy, available at local book stores. And check out Risling Baldy's other columns for the
Journal
here
, including her most recent offering, "
How We Let This Happen
," which takes on issues of concentration camps detaining migrant children and the genocide of Native people in California.
And please join us in giving Risling Baldy a hearty congratulations on this prestigious honor.