Matt Filar
Crabs celebrate Sunday after sweeping the Expos.
Ladies and Germs, we have a winning record. This is not a drill. I repeat, we have a winning record: 13-10. Three more wins than losses. In the 23 games played thus far, we have won over half of them. Thirteen to be exact.
We're nearing the midway point of the season and the Crabs are surging. They've won seven games in a row and eight of their last 10. In those seven victories, they've scored an average of 10 runs and allowed an average of three.
Matt Filar
Hendo celebrates his seventh home run of the year during Friday's game.
Damian "Hendo" Henderson continues his assault on the fences; he's got seven homers on the year now — more than any Crab hit in the entirety of the 2018 season. Ryan Higgins is hitting singles like made: .500 through 16 at-bats. It's a rare sight when our starting pitchers don't go five scoreless innings, our infield is dialed-in and errors are an endangered species these days.
The three-game series against the California Expos of Fresno lasted a grand total of eight hours. Tops. The Arcata Philharmonic carried us, as they always do, through a 12-2 rout with vigor and whimsy.
Matt Filar
Tuba player extraordinaire Gordon showing off some awesome face-paint.
Truth be told, in a series this lopsided, there isn't much to say. The Expos were roundly overmatched and though they fought valiantly and stood stoic against a torrent of heckling, it just wasn't enough. Pitcher Josh Mollerus had his best outing of the year so far Friday evening, throwing seven strong innings, striking out six while only walking one and allowing two runs on three hits. One of our new-hires, Jalen Smith out of UC Davis, is an absolute stalwart at second base and an exciting baserunner.
Saturday looked much more like a regular baseball game, with the Crabs prevailing 4-1. And it was Pirate Night! Pirate Night has got to be Crabs fans' favorite event of the season. There were probably two dozen swashbucklers and privateers roaming the open ballpark in search of loot and beer (generously provided by Lost Coast Brewery, a nice little tap takeover that bled into Sunday afternoon). People just love pirates.
A young man named Quentin, with a little help from his Stratocaster and a wah-wah pedal, gave a rousing rendition of the national anthem, and we were off and rocketing through the game, which lasted a grand total of two hours and 17 minutes. Blistering fast for baseball.
Matt Filar
Ryan Higgins slides under a floating third baseman on Friday evening.
Pitcher Kyle Pruhsmeier of Fresno State had his home debut (his second appearance overall) and just dominated — striking out five, walking none and allowing no earned runs. He did, however, balk in a run in the top of the sixth inning, but he quickly recovered and closed out the inning on the next pitch. In all, the Expos had runners in scoring position only twice during his outing.
In the first mid-inning game, the kiddie contests along the third-base line that happen every couple of innings, the Crabs players obliterated the contestants and bathed in a round of hearty boos after their victory. I've never booed the Crabs before. It felt kind of good.
Sunday's game was really something. I love our Sunday matinees. The band (which debuted an excellent rendition of "Killing in the Name of" by Rage Against the Machine), the sun, a perfect excuse to eat three cheeseburgers before 3 p.m.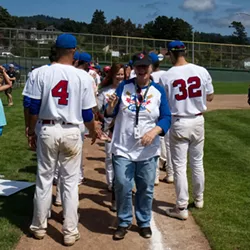 Matt Filar
Adults like to run the bases too!
And this Sunday was like a day at the batting cages for our favorite arthropods. Every Crab who saw the plate more than once logged at least one hit.
With Hendo taking a well-earned rest day, our Crabs meant to prove they don't lack for power. Dawson Bacho uncorked things in the fourth inning with a booming solo shot after working a full count. Two batters later, Vinny Bologna responded with his own homer. These are each hitter's second home run of the year. Next inning, the Crabs came one swing from batting around the order, scored five runs and hit three doubles just as a cherry on top. They wouldn't stop there, scoring five runs over the next two innings and build a 12-2 lead. The Expos put up another two runs in the top of the ninth but couldn't close the gap any further. Crabs won 12-4.
We've got six consecutive days of baseball next week. First up, we have three games against the Solano Mudcats. Tuesday and Wednesday tee off at the typical 7 p.m., but Thursday, July 4, will begin at 2:30 p.m. Then the Crabs head straight into another three-gamer against the Pacific Union Financial Capitalists, one of the stronger teams we play each year. Those games all start at the normal 7 p.m.
Heckle of the Week
I want to give it to Wendy and the Slide Whistle again or to Wendy and Becca for bringing a broom to Sunday's game. But on Saturday night (Pirate Night) some guy yelled "Arr you kidding me, Blue," after a questionable call and it just slayed me. There's nothing you can do about that joke. It's coming and you just have to stand there.
Jeers and Jeers
To counteract my earlier niceness, this is a Jeers-only week. Sponsored by Arm and Hammer Baking Soda, the number one natural remedy for social dyspepsia.
A big, huge, thunderous
Jeers
to yours truly by letting slip the "fuck" work at almost full volume. And again for typing it just then. Sorry, folks.
Jeers
to Dean for leaning over to me during the waning innings of Game Two and saying, "Davonte's working on an immaculate inning." Textbook jinx, Dean. And what happened next? Yeah.
Jeers
to Monsieur Cul for letting his rump hang out of his jeans all game. Can't you feel the breeze, man?
Naughty List
The honeymoon is over. After going nearly two weeks without a boot job, we had two of the more … dramatic 86s of the year. There was Franny Foulmouth over in the left field area, who simply could not stop chanting invective at the players, and directed it to ballpark staff as they escorted her out of the park.
And another woman was given the shoe for — and I promise I'm not lying — drinking booze out of a sunscreen bottle. It's not just an
Always Sunny in Philadelphia
gag anymore, folks. Bringing a fifth of Stoli would be more incognito than drinking from a bottle of sunscreen. Just why?