Part I - Through the Eyes of a Neophyte

My younger brother came up this past week. Called me from the highway Monday afternoon and asked if I "got any plans this week?" I did not, so I vacuumed my couch, coiled my spare cables and did what every good Humboldtian does when they find out their kin has never seen a Crabs game: I took him to a Crabs game. I wanted to see what it was like for someone new to the area to happen upon our summer tradition, so we did a bit of a debrief afterwards. Here are some excerpts:
"Oh man, it was great! I've only been to pro games before so it was really different, but I loved it. Obviously it's not at that level, but it feels more professional than college bats. I think it's the wood bats.
"Favorite part? The fan experience. I feel like if you've lived here for 10 years and go often you'd know everyone. The band and the very loud, polite heckling for sure. Like when you told the other team to tell their pitcher he was pretty? That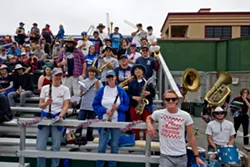 Matt Filar
The Band cheeses before Thursday's game.
was funny. It's cool to see in such a small town, the passionate following [the Crabs] have. It's not like a college team, where you root for them because you go there or are an alum, people pick the Crabs. You don't really see such fervor for a small, low-key team. As for the band, hmmm, I can't remember what songs they played so I can't pick a favorite, but I loved the variety they played. Best part was them hyping up the bat boy, though, for sure. That was tight.
"The other thing that stood out, far as ballpark food goes, this was pretty damn good. Dollar dogs at the end of the game? You kidding? And $4 beer is awesome. Coming from SF, you're paying double that, minimum, for a shitty Bud Light or something."
Every summer from Memorial Day weekend through the end of July, five times a week, we get to mosey over to the ballpark and watch the Crabs play. We sit with our friends, drink affordable, delicious local beer (or Bud, if that's your thing) and watch these young men play a game they love. It's easy to take it for granted. So it's a welcome reminder when a greenhorn comes into town and tells us we have something truly special here.
Part II - The Fourth
Matt Filar
Uncle Sam wants the Crabs to win on the Fourth of July.
I love the Fourth of July. I'm not an especially nationalistic or even patriotic person. I don't salute the flag, I don't get verklempt at the National Anthem and I've got, like, four articles of clothing that violate Section D of the U.S. Flag Code. Still, the Fourth is one of my favorite holidays on our calendar. I'm reminded of my family's annual Independence Day party. We'd get all the family friends together for pool shenanigans and grilling while us youngsters ran clandestine beer raids to drink under the deck. And every year we played a softball game.
Baseball was made for summertime. Maybe it's that it's kind of a languid game — players only move when they absolutely have to. Fans can slip in and out of attention, hold side conversations, smoke a cigarette, what have you, and generally not miss much action.
And baseball on the Fourth is about as American as it gets. As American as apple pie with a slice of cheddar cheese on top. This year's Independence Day game was the best game of the year, hands down. The veil of gloomy gray clouds parted maybe 20 minutes after the first pitch, the bleachers were packed and the band had perhaps their best turnout of the year. It was almost a spiritual experience. I haven't felt such a strong sense of community in a long time, if ever. Some 970 people gathered in our small nook of the world for no reason but to have a good time. The whole game things were … elevated. I don't know how else to describe it.
Thursday's game was the final meeting between the Solano Mudcats and our boys. The Polliwogs were formidable opponents, snapping the Crabs' seven-game winning streak on the day they rolled into town, and playing and chirping their whiskered little hearts out through two tough losses. My favorite team we've played all year. They heckled the crowd, they gassed each other up in the dugout and on the field, and a couple of their pitchers had some real nasty stuff. Small players with big bats, too — always love that.
The Crabs play straight through the weekend against perhaps the best team we'll face all year, the Pacific Union Financial Capitalists, for the second half. Six straight days of baseball is a lot, even for the fans, so let's all remember to drink water, get enough sleep and tip your bartenders. See y'all Sunday.
The Crabs face off against the PUF Caps Friday and Saturday at 7 p.m., Sunday at 12:30 p.m. Fireworks Saturday after the game. And it's Parents and Alumni weekend, too!