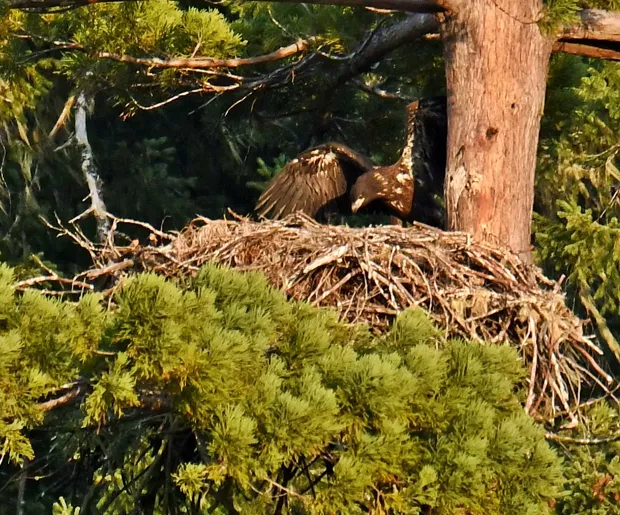 Photo by Talia Rose
After the firefighters left, the eaglet began to move again.
Southern Humboldt County nature lovers were very concerned today as a wildfire burning in the Benbow area closed in on a nest holding a 12-week-old eaglet that has not yet taken to flight.
"It was really close, and the helicopter was buzzing right past the nest," said nature photographer Talia Rose, who runs the popular nature photography Facebook page, County Line Wild. "[B]oth parents were absent from the valley … ."
Rose, who frequently photographs the eagle family, said during that the firefight, as the helicopter was buzzing nearby, the eaglet "was sitting up tall but tense and frozen in the nest … ."
Firefighters from Cal Fire, Garberville and Redway VFDs as well as an inmate crew managed to get to the difficult to access fire and stop its forward progress by about 6:30 p.m.
She said the eaglet barely moved "until about 20 minutes after the helicopter left the valley …. ." Then, she said, "it finally moved around the nest a bit. I think it will be fine and thank god this fire did not start in the middle of the night."
Firefighters expect to be mopping up until 11 p.m.