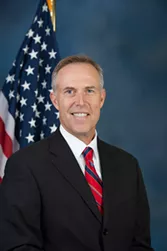 Congress
Jared Huffman.
With President Trump's promised weekend immigration raids looming, North Coast Congressman and lawyer Jared Huffman has released a video for his constituents outlining their rights should immigration agents come knocking.
The roughly four-minute video (embedded below) features Huffman's brief remarks, followed by a Spanish translation by Congresswoman Lucille Royball-Allard. Huffman also urges constituents with questions to call his Eureka office.
"As always, my team is here to help," Huffman said. "Please protect yourself and know your rights."
See the video from Huffman's office below, followed by the press release issued this afternoon.
Ahead of Trump's Announced Raids on Undocumented Families, Rep. Huffman Urges Immigrants to Know & Protect Their Legal Rights

Washington, D.C.- In light of President Trump's announcement that his administration will conduct nationwide raids to arrest thousands of members of undocumented families, Rep. Huffman (D-San Rafael) released the following video urging immigrants in California to know and protect their legal rights.

You can watch the video here, which also features a message in Spanish from fellow California Representative Lucille Roybal-Allard on how immigrants can protect their rights.

Constituents can also find more resources on Rep. Huffman's website.