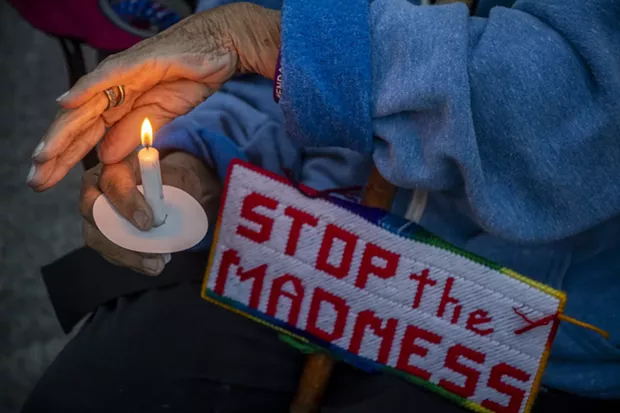 Mark Larson
Participants in the candle-lighting ceremony had to protect their flames from gusts of wind blowing along Fifth Street.
The Lights for Liberty Eureka: Vigil to End Concentration Camps attracted more than 200 attendees to a candlelight vigil at the Humboldt County Courthouse at sunset Friday evening.
This local vigil, intentionally using the term "concentration camps," was one of two held countywide as part of Lights for Liberty: A Vigil to End Human Detention Camps, a nationwide event Friday to protest conditions faced by refugees at the Mexican border, according to Terry Supahan, executive director of True North Organizing Network that organized the event.
Attendees of all ages brought protest signs or created them at the event, and one protestor carried an upside down American flag, a universal signal of "distress."
The event's formal presentation included testimony from community members and local spiritual leaders and ended in prayer and a call for community action. The event closed with a symbolic candle-lighting ceremony and imprompto singing of "This Little Light of Mine" with updated lyrics and other protest songs.
10 slides