Coming in to Sunday's game against the Ukiah Hawks, the Crabs had scored 47 unanswered runs against their opponents. That is not a typo. After a straight up bummer 5-3 loss against the San Leandro Ports on Tuesday July 9, the Crabs went on a tear.
In their second and final game against the Ports, they won 13-nil. Then came the Hawks, who — judging from the fact that they call themselves the Hawks and yet wore St. Louis Cardinals gear the whole weekend — aren't exactly a crack bunch.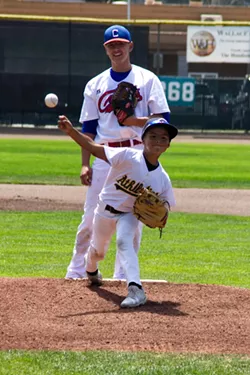 Matt Filar
A youngster throws a dart for the ceremonial first pitch. Future Crab?
Friday evening they were understaffed to the point that one of their coaches played first base. The Crabs trounced them 20-0 with the slaughter rule in effect (The "slaughter rule", if both teams agree, means that the game ends after the seventh inning should one team be down by 10 or more runs at that point, thank god); the Hawks' coach got one of their two hits, as it happened. Saturday night, the Crabs won 14-0 and ostensibly went out and had a team wide bacchanal, as they allowed two runs and won by a measly 11-run margin, 13-2 on Sunday. Each game ended in the seventh inning. For those not mathematically inclined, that's a total point differential of 45 for the series, which would be a blowout in a single basketball game.
It's easy to forget how good these kids are. It's easy to harp on Koko for not rushing a grounder with enough haste, or Henderson for making the big throw to third instead of safely hitting his cutoff man. It's understandable to normalize their abilities and think to yourself, "Pfft, I could do that. I could make that play." Just like it's easy to think that Steph Curry looks kind of short on TV. But that's only because he shares the court with a bunch of 6-foot, 10-inch behemoths and stands a meager 6 feet, 3 inches. You can't make that play. These kids can ball.
So it was a nice, refreshing reminder that we're watching real talent. These kids are probably better at baseball than I am anything (except maybe procrastination). But, it's not that fun watching a team get curb-stomped three times in a row, I gotta say. I've been on a shit team before. I've been warming up for a tournament knowing that we were walking into a buzzsaw. Or, really, that we were strapped onto a conveyor belt proceeding inexorably toward a buzzsaw. Finding meaning in these defeats can be like trying to wring water from a stone — we turned a sweet double play, I threw a nice pickoff in the third inning. Really the best you can do is grin and bear it. To their credit, the Hawks did just that. They had about 19 innings to roll over, and they never did. Not once.
We in the stands didn't quite know what to do with ourselves. The Crabs batted around in the very first inning of the series, scored seven runs, and made it abundantly clear that this tsunami of runs would not stop any time soon.
Matt Filar
Koko Figeuiredo shows some love to the fans after belting a home run
You can't heckle that, it's just malicious. And you definitely can't start cheering for the other team — that's more patronizing than frequenting a restaurant. So mostly what we did was sit (or stand!) in frenzied silence, occasionally erupting into cheers when, say, Riley Cleary hit a home run. Or Ryan Higgins hit a home run. Or Koko hit a home run.
Heckle of the Series
This comes from the announcer by way of an unknown fan. Saturday evening was Nameless Fan's friend's birthday and they sent a shout out to the booth that went, "Happy 38th Birthday to [Ryan]. Sorry about your rash."
- No
Cheers and Jeers
this week. It was a very mellow series.
It's a weird week coming up. Some rescheduling. Rather than a two-game series this Tuesday-Wednesday, we will be playing one game apiece against Humboldt Eagles (??) and the Redding Ringtails.
A final note:
An older fan had a medical emergency during Friday's game and had to be taken away by ambulance. I'm sure I speak for every Crabs fan and all of us here at the
North Coast Journal
in wishing them a full and speedy recovery, and some solace and hope to their family in this trying time.