Matt Filar
The Crabs stand for the National Anthem in front of a perfect Humboldt summer evening.
The Crabs welcomed the West Coast Kings to Humboldt County for the first time with a series sweep. Ten more games left in the season and we're sitting pretty at 26-13, riding a nine-game win streak.
Friday night's game was one of the more competitive and exciting games of the year. The Kings looked razor sharp and set to give the Crabs trouble, putting runs on the board and pressuring the defense basically from the jump. Thankfully, our boys responded in kind, even managing to one-up their royal rivals and pull a 5-4 win from the stone.
Crabs' pitcher Josh Mollerus had a brief but strong outing, going four innings and striking out seven while only allowing two runs. Four Crabs logged multiple hits. Riley Cleary and Jalen Smith had two singles apiece, Kyle Knell had a single and a triple, and Dawson Bacho had a single and his fifth home run of the year.
And we were treated to one of the rarest Crab feasts of the year! Two innings of Daniel Carrizosa taking the mound. This is only the second game appearing on the bump for 'Zosa — who typically serves as our Great Wall at Shortstop. His whole approach to throwing is fun. He has two or three different deliveries and paces as well as a solid fastball and some decent off-speed pitches. His game is about deception. He'll take his sweet time getting ready one pitch, and be hurling the moment the batter steps in the box on the next. Sometimes he'll rush his motion; others he takes a long, contemplative pause with his leg in the air — like he's entered a fugue state or something. It's goofy and effective and awesome. In 5.2 innings he has seven strikeouts and has only given up two hits. His ERA is zero.
Saturday's game was your standard 11-0 rout. Another delightful outing for Kyle Pruhsmeier, who went six innings and racked up five strikeouts and allowed, obviously,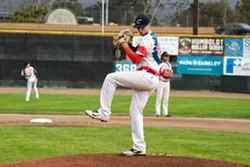 Matt Filar
Kyle Pruhsmeier sets to pitch during Saturday's game.
zero runs. The boys have been busting out the radar gun lately, and I heard tell he can throw up to 88. Pretty nasty. And he has such a good name for a pitcher. Pruhsmeier. No clue what makes it but it just sounds right. On the offensive side, seven-of-nine Crabs had multiple hits and all but one put lumber to leather. We've still yet to have a game where every Crab gets a hit, but it's coming. I can feel it. Perhaps this series wasn't going to be as competitive as we all thought on Friday.
Sunday afternoon bore that out. The Good Guys won 7-2 and Captain Kirk, not to be outdone by Bacho, knocked not one, but two dingers! Kirk and Bacho are now tied at five home runs a piece, good for second on the team — and one more than any Crab hit last year. I sound like a broken record but we have some serious power on this team, real big swingers, and some startlingly efficient contact hitters. Kirk is on a six-game hit streak, Koko is hitting a legitimately obscene .464 this month and is all but impossible to shut down.
Those early season woes are a thing of the past. This team has clicked like the protagonists in a rom-com and are cruising now. This is another weird week without a two-game series. Instead we are playing the B52s Tuesday (B52sday am I right? Get it?) and the Redding Ringtails traverse the 299 once again to play a single game on Wednesday. Many thanks to them for being flexible and apologies to Mother Earth for the added fossil fuel emissions.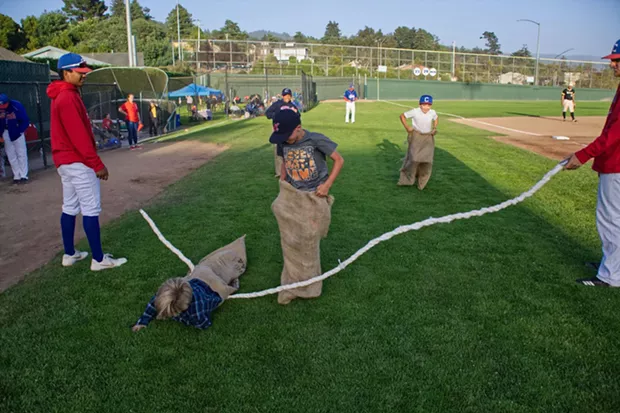 Matt Filar
"The Heart of A Champion" - Matt Filar c.2019
Heckle of the Week
This is a weird one, because it was directed at me rather than the opposing players, but one of the Crab Grass Band's elder statesmen told me, "You got a purty mouth" and I can't stop thinking about it. Or sleep.
Cheers and Jeers
Cheers
to the luckiest man in Humboldt County, Jeremy, for winning his third 50/50 this month. Dude has like $50 of my money sitting in his pocket by now. Additional kudos as he donates a meaningful portion of his winnings to the Band. What a mensch.
Jeers
to all the ruffians, rapscallions and general degenerates who've stayed away from or been on their best behavior at the games. There has been a startling lack of public humiliations and cautionary tales this year. My boss made me promise I wouldn't get kicked out otherwise I'd do my share, so y'all gotta pick up the slack.
Cheers
to the West Coast Kings, easily the most good-humored team we've played so far. Come back anytime.
Cheers
to the dude wearing a shirt that read:
"I drank what?"
-Socrates
Hilarious. I want one.
The Naughty List
As mentioned above, no additions.