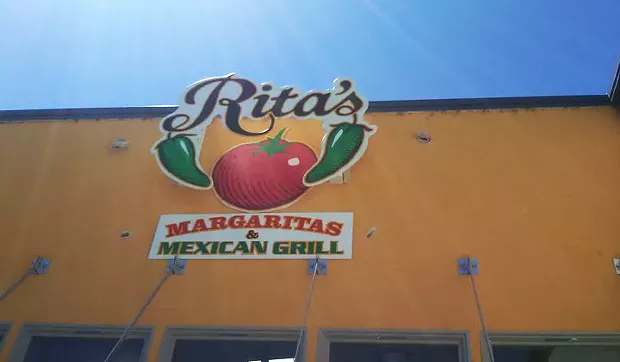 The state of California seized a local restaurant's liquor license and auctioned it off this month, an action that came amid a flurry of local activity from the department of Alcohol and Beverage Control.
With a bill of more than $500,000 in delinquent taxes and penalties owed to the state, Rita's Margaritas and Mexican Grill, located on Fifth Street in Eureka, surrendered the liquor license to the state that owner Rita Pimentel held for the restaurant's now long defunct location on Harris Street. The California Department of Tax and Fee Administration then seized the license from ABC and put it up for auction, where it fetched $80,000 from Debbi Chisum, who owns Double D Steak in Fortuna.
Meanwhile, ABC took action against the two other Rita's establishments locally — the one in Eureka owned by Pimentel and Rita's Arcata, which is owned by Edward Fregoso — based on allegations that both had illegally purchased liquor to sell at the restaurants.
Pimentel did not respond to
Journal
messages seeking comment, but it seems the popular Eureka restaurant's tax problems are extensive. The notice of auction prepared by the state notes that the establishment owed more than $323,000 in delinquent taxes, more than $92,000 in interest and $85,000 in penalties, for a total outstanding balance of $502,567.98. The $80,000 fetched at auction will go toward paying down that amount, but leaves more than $420,000 outstanding and the California Franchise Tax Board has put a "hold" on the liquor license for the Fifth Street restaurant.
Chisum, meanwhile, tells the
Journal
she purchased the license to use at her existing popular eatery and bar on Fortuna's Main Street. Why, we asked. It turns out it's a bit complicated.
The building that currently houses Chisum's restaurant is owned by the city of Fortuna, which took over the deed, according to Chisum, after the building's former owner couldn't repay a loan from the city.
"Long story short, the city didn't mean to get this building … and wants to sell it," she says.
So Chisum is buying the building, looking to become her own landlord, as she puts it.
"This way, I own it and I can do what I want with it," she says.
But there was one notable catch in the form of California Business and Professions Code 23824 (b), which states that liquor licenses issued for premises owned by a government agency can only be issued at the request of the government agency and don't count against the geographic license cap ABC determines based on population figures. Essentially, this means that if Chisum purchased the building, she would likely have lost the liquor license, which is is why she jumped at the chance to purchase one of her own.
But the whole thing isn't a done deal just yet. While Chisum nominally purchased the license, what she really purchased is the opportunity to hold one of the finite number of licenses in Humboldt County. She still needs to file a formal application with ABC to use the license at the Fortuna restaurant and will need to go through the same vetting process as anyone else looking to get a liquor license — which includes background checks and public noticing requirements.
ABC also recently filed allegations against the other two local Rita's restaurants that were recently settled with both establishments agreeing to pay thousands of dollars in fines.
In June, ABC accused Rita's Arcata of violating the state's business and professions code by purchasing liquor for resale from Costco, BevMo and Migeul's Mexican Restaurant, none of which have the requisite "wholesaler's license" that would allow a restaurant to buy from them. The agency also accused Rita's in Eureka of violating the same code by purchasing from Costco, BevMo and Rita's Arcata. Both restaurants faced a maximum penalty of a 15-day license suspension.
Both Pimentel and Fregoso opted to enter into settlements — known as Personal Offer in Compromises — with the agency, with Pimentel paying a $2,255 fine and Fregoso paying one of $4,948. (According to an ABC spokesperson, Rita's Arcata's fine was steeper because it was the restaurant's second disciplinary action from ABC within a three-year period.)
In an interview with the
Journal
, Fregoso didn't dispute the ABC allegations. He says he did purchase liquor at Costco and BevMo but only in a pinch, and only to bridge the gap between wholesale deliveries.
"I knew it was illegal but I had also heard that as long as it's one bottle here, one bottle there, it's no biggie," he says, adding that he regularly sees other local restaurant owners at Costco buying liquor he assumes will be sold in their establishments.
And with the booze from Miguel's, Fregoso said he got a call from the restaurant's owner saying he'd been forced to shut it down because the building was being sold and that he had a bunch of unsold liquor. Fregoso said the man told him he'd already sold the wine to another Arcata restaurant and offered to sell him the hard liquor. After some back and forth, Fregoso says he agreed to pay $5,000 for the remaining liquor, thinking that because Miguel's had purchased it from a licensed wholesaler it wouldn't be a problem.
"I didn't think I was doing anything wrong," he says.
Fregoso says three ABC agents showed up with a search warrant and took photos of his inventory, asking where each bottle came from. Fregoso says he felt the whole thing was a bit of "overkill" but answered the agents' questions honestly.
"If they'd just asked me to return it I would have returned it," he says. "They made a big thing about it."
ABC fined Fregoso nearly $5,000. The kicker? Fregoso says the agency didn't seize the $5,000 worth of liquor he was dinged for purchasing.
"Ninety percent of that stuff hasn't even sold," he says.