A
massive search effort for a missing hiker
ended today after rescuers recovered his body in a remote wilderness area near Mirror Lake in the Trinity Alps.
According to the Trinity County Sheriff's Office, the body of Daniel Komins, an EMT and volunteer with Blue Lake Fire, was located after a California Highway Patrol helicopter crew spotted what appeared to be a backpack and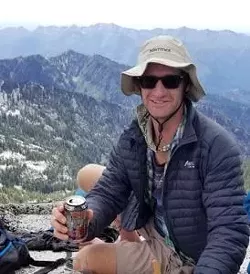 Trinity County Sheriff's Office
Daniel Komins sent this photo to his girlfriend Sunday from the top of Thompson Peak in northern Trinity County. The last time he was seen was Monday morning as he headed to L Lake.
search efforts narrowed in on the area.
Komins, 34, was an experienced hiker. He was reported missing when he did not return home as planned on Aug. 14.
In a Facebook message, Blue Lake Volunteer Fire Department Chief Ray Stonebarger thanked the rescue teams who searched for Komins as well as those who spread the word he was missing on social media and donated to the search efforts.
"For all of us that knew Daniel, we were blessed. For those that never had the pleasure, I'm sorry that you didn't get that opportunity," he wrote. "He really did put a smile on your face. Let's keep his family and friends tight in our arms and guide them through these coming days.
According to the release, a preliminary investigation indicates that he "may have fallen in the steep and rocky terrain."
"Although this was not the outcome that was wanted, the Trinity County Sheriff's Office as well as family members of Komins, wanted to thank the Search and Rescue members as well as all other volunteers, for assisting in bringing Daniel Komins home," the release states.
Read the Trinity County Sheriff's Office release below:
The Search and Rescue efforts pertaining to Daniel Komins continued throughout the day of August 18, 2019.

The twelve Search and Rescue teams, referenced in previous press releases, began searching their respective areas around first light.

During the late morning, a California Highway Patrol helicopter observed what appeared to be a backpack. The backpack had been off trail, between L Lake and Mirror Lake.

Ground search teams, who were already near the area, went to the location of the backpack in an effort to recover it. The backpack was recovered and later determined to have belonged to Komins.

Search and Rescue members continued to search the area near the backpack, and later located Komins, who was deceased.

Komins' remains were flown from the area via helicopter.

A preliminary investigation appears to indicate that Komins may have fallen in the steep and rocky terrain.

Although this was not the outcome that was wanted, the Trinity County Sheriff's Office as well as family members of Komins, wanted to thank the Search and Rescue members as well as all other volunteers, for assisting in bringing Daniel Komins home.

Once additional information is obtained, further press releases shall be issued.

Persons of Interest:
Daniel Komins, Date of Birth: April 12, 1985

Agencies involved:
Trinity County Sheriff's Office
Trinity County Search and Rescue
Trinity County Sheriff's Auxiliary
Bay Area Mountain Rescue Unit
Butte County Search and Rescue
California Governor's Office of Emergency Services
California Highway Patrol
California National Guard
Contra Costa County Search and Rescue
Marin County Search and Rescue
Civil Air Patrol
Shasta County Search and Rescue
United States Forest Service