Iridian Casarez
Zoe Reiss, an Arcata High School senior, addressing the crowd at Arcata's Global Climate Strike.
As community members waited on the Arcata plaza, their climate-action signs in hand, loud chanting emerged from Ninth and G streets, "Save the Earth!" "Save the Earth!" Hundreds of Humboldt State University and Arcata High School students started to flood the plaza in a massive wave. They were ready to set make mark as part of the Global Climate Strike.
About 5,000 strikes in 156 countries around the world (including 500 strikes in the U.S.) participated in the Global Climate Strike today to call for action against the climate crisis. Spearheaded by Greta Thunberg, a 16-year-old Swedish climate activist who works to highlight the climate crisis, thousands of students and adults walked out of schools and workplaces to participate. The strike comes a few days before the United Nations Climate Action Summit in New York City, where officials are scheduled to create new efforts to combat climate change under the 2015 Paris Climate Agreement.
In December of 2015, world leaders from 195 countries came together and established a plan to combat climate change and dubbed it the "Paris Climate Agreement." According to the Natural Resources Defense Council (NRDC), the agreement is a framework for global climate action and "provides a road map for cutting emissions of greenhouse gasses."
Almost all of the countries around the world signed on, including the U.S. under President Barack Obama. However in 2017, President Donald Trump announced the U.S.'s intent to withdraw from the agreement. According to NRDC, exiting the Paris Climate Agreement is more extensive than it sounds. To withdraw from the agreement, the plan has to be enacted for at least three years and, on top of those three years, the U.S. has to wait another year before it can actually leave the pact (meaning that the earliest it can leave is Nov. 4, 2020, a day after the presidential election). However, after President Trump's announcement, a combination of U.S. cities, states and businesses signed the "We Are Still In" declaration, affirming their commitment to the Paris Climate Agreement.
At noon today, HSU and Arcata high school students marched from Arcata High School down to the plaza, where local climate activists, students and community members voiced their frustrations of the growing climate catastrophes, rising greenhouse emissions and very few policy and cultural changes that could spark solutions.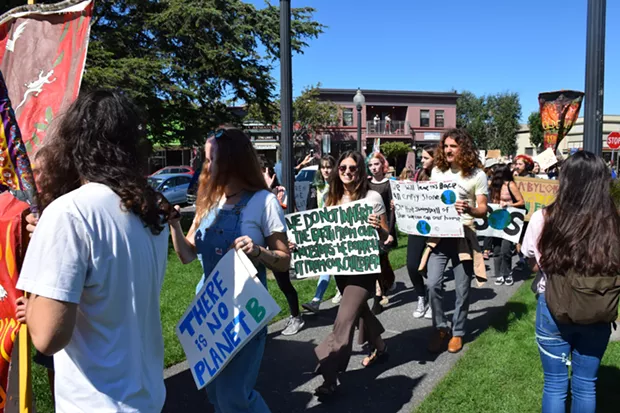 Iridian Casarez
Students marching towards the center of the Arcata Plaza.
"We are passed the point of viewing climate crisis as a debate," Zoe Reiss, an Arcata High School senior, said to the crowd. "It exists and humans need to be held accountable."
Neesh Wells, a senior at HSU, said that they never saw themselves participating in an event for climate action but, over the past year, they began focusing on changing their own habits to help reduce climate change by bringing Tupperware to restaurants, using reusable coffee cups, and shopping locally and at thrift shops instead of online. Wells also began interning for Zero Waste Humboldt, an organization that focuses solely on waste reduction solutions.
"People need to be aware that [climate crisis] is only going to get worse," Wells said. "There's a lot of passionate people here and we need to continue what we see today and implement that passion into our everyday lives."
Many community members joined the strike, including Kate Mckinnon a Humboldt County resident who says she wanted to join the schools in the strike for climate change to try to make a difference.
"Congress remains inactive on climate action issues, in spite of data that's been presented by scientists that the Earth is in danger," Mckinnon said adding that she'd like to make a difference in her own way, by participating in these kinds of events. "It does make a difference, it's getting people to really think about [climate action]."

24 slides
<!———EndFragment———>