The World War II-era plane that crashed in Connecticut this morning was part of the Wings of Freedom Tour that makes annual
stops
on the North Coast and most recently passed through in June.
According to CNN, the vintage Boeing B-17 crashed while attempting a landing at Bradley International Airport in Connecticut. All 10 passengers and three crewmembers, as well as another person on the ground, were reportedly injured in the crash. The
Hartford Courant
is
reporting
that at least five people were killed.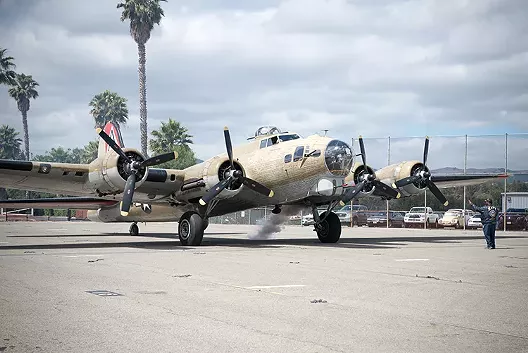 Photo by Mark McKenna
The Nine O Nine taxis starts its engines for a 2017 flight headed from Concord to McKinleyville.
Various news reports indicate the plane experienced problems about 10 minutes after takeoff — with some witnesses saying they could hear the engines struggling — and returned to the runway. But after touching down, it reportedly lost control and hit a de-icing facility, bursting into flames and releasing a plume of smoke that could be seen for miles.
The plane — dubbed the
Nine O Nine
— is a Boeing B-17 Flying Fortress bomber that was restored by the Collings Foundation, a Massachusetts nonprofit dedicated to preserving transportation history, and tours the country, with stops in 100 cities scheduled this year. The tour's stops in Humboldt County have been made possible through a partnership between the foundation and the North Coast Vintage Aviation Association, allowing locals to tour the planes and — for a price — take a flight in one of a number of historic war planes.
See past
Journal
coverage of the Wings of Freedom Tour
here
and keep up with the latest from the crash scene from the
Hartford Courant
here
.