UPDATE:
According to Pacific Gas and Electric spokesperson Deanna Contreras, the company will only be opening one community resource center in Humboldt County — not the two previously indicated — and it won't be up and running until 8 a.m. tomorrow.
The center will be located at Redwood Acres Fairgrounds and will offer bottled water, restrooms and an electric charging station.
Humboldt Bay Fire is also opening up a charging station for medical and other electronic devices at its classroom at 3030 L St. in Eureka.
PREVIOUSLY:
At a press conference this morning, Humboldt County Sheriff William Honsal urged the public to remain calm amid a Pacific Gas and Electric power outage that is expected to last at least through tomorrow afternoon and may stretch in to next week.
"This is a power outage. This is not a public emergency," he said, urging residents to refrain from calling 911 unless there is a true emergency.
The sheriff further emphasized that PG&E is the best source of information for estimates as to when power may be restored to Humboldt County and urged the public to check the company's website, which has been spotty since the company announced the shutdowns across much of the state Monday afternoon. Humboldt County was added to the list that has now grown to 34 counties on Tuesday, when the company realized that shutting down transmission lines in neighboring counties in an effort to prevent wildfires would sever Humboldt from the grid, cutting power to most of the county.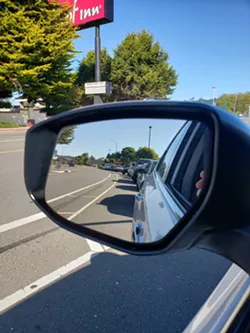 Kali Cozyris
Lines stretch down the street at a gas station in Arcata.
Honsal said the county Office of Emergency Services has been activated and will work to get information out to the public as quickly as possible, posting updates on its Facebook page, including information on open stores and gas stations.
PG&E is opening community resource centers today at Redwood Acres Fairgrounds and College of the Redwoods, where residents can get bottled water, use restrooms and charge medical and other electronic devices. Additionally, Humboldt Bay Fire is opening a charging station in its classroom at 3030 L St. in Eureka. But Honsal emphasized that the centers are not shelters.
Humboldt County Public Health Officer Donald Baird said all local skilled nursing facilities and hospitals are operating on generators, and that the county Department of Health and Human Services is planning to do home visits to check on vulnerable patients.
"We are trying to avoid unnecessary trips to the emergency room," he said.
Baird urged residents to "stay home" if they don't need to go out and to "be safe."
"Take care of your neighbors," he said. "If you have an operational generator, share your power."
County Administrative Officer Amy Nilsen said most county offices will be closed to the public at least through today, including libraries. The Humboldt County Superior Court is also closed today, though the airport in McKinleyville is open and, a few slight delays aside, fully operational.
Kali Cozyris
The vacant parking lot in front of a shuttered WinCo Foods on Wednesday morning.
Nilsen said the county is trying to conserve the energy resources it has to keep the jail and other essential services operational.
Humboldt Bay Fire Chief Bill Reynolds urged the public to be "hyper vigilant" while using alternative lighting and heating sources through the blackout, and local Calfire Chief Kurt McCray cautioned that the county is under a red flag warning for dangerous fire conditions.
"The real test for us is going to be the next 48 to 72 hours," he said, prompting Honsal to chime in to urge residents to call 911 immediately if they see a fire.
According to the National Weather Service, highs in Eureka are expected to reach 61 degrees today, with winds of up to 15 mph.
Honsal said this blackout, which officials expect to last at least through tomorrow afternoon, after which it could take PG&E up to five days to restore power to its entire grid, stands as a reminder of how dependent Californians are on the utility company. He said local government will have to look at how to improve redundant resources here in the future, adding that PG&E hasn't given him a direct explanation of why the Humboldt Bay Power Plant couldn't be used to provide electricity to local customers amid the blackout in other parts of the state.
Overall, officials indicated things have gone smoothly, given the blackout and the short notice PG&E provided local residents.
"So far, knock on wood, things have been managed," Honsal said.
We'll continue to post additional information throughout the day so check back for updates.