FOURTH UPDATE:
The power may be back on but the outage took its toll on perishable food in refrigerators across the region. The county Department of Health and Human Services wants CalFresh recipients to know they can apply to have those losses replaced by phoning the call center at (877) 410-8809 or going into the office at 929 Koster St. in Eureka to start the process. The deadline is Oct. 21.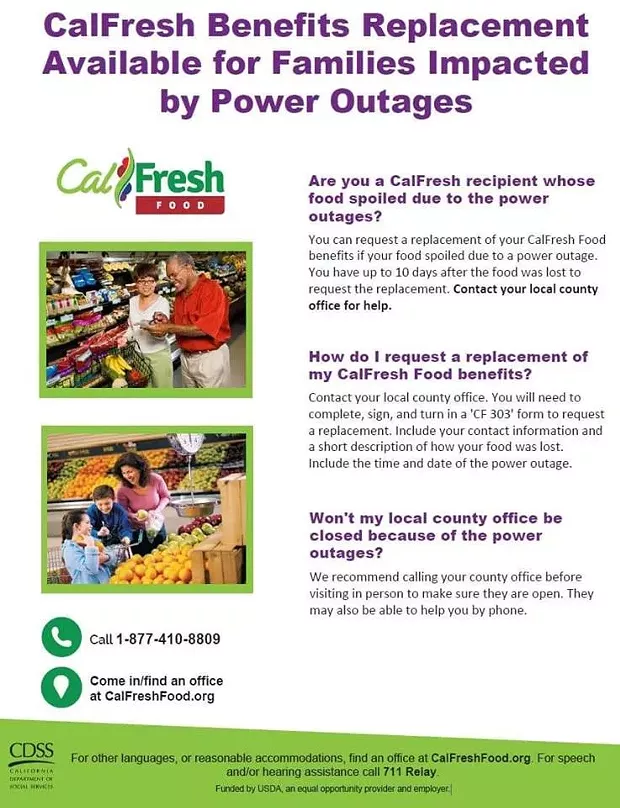 THIRD UPDATE:
Pacific Gas and Electric restored power to the eastern stretches of Humboldt County yesterday afternoon, with Willow Creek, Hoopa and Orleans all seeing the return of electric service by 4 p.m.
According to Deputy County Administrative Officer Sean Quincey, it now appears power has been restored to the entirety of the county.
SECOND UPDATE:
The Humboldt County Office of Emergency Services says PG&E has notified local officials that repairs on the two major transmission lines that power Humboldt have been completed and "they are currently working to re-energize all Humboldt County customers as quickly as possible today."
UPDATE:
For those looking for PG&E's community resource center at Redwood Acres Fairgrounds this morning, you might need a little help finding it, as it's tucked in the back with nary a sign to help guide the way.
The center, which opened at 8 a.m., a handful of hours after power was restored to the vast majority of the county, consists of a trailer and a tent tucked on the eastern edge of the property, between the BMX track and the raceway (see the area circled in red on the map below). As of about 9:30 a.m., the only folks there were a few PG&E employees and a pair of private security guards milling about the center, which is offering water and electronic device charging to anyone who needs it.
Meanwhile, power remained out in the eastern stretches of the county as of earlier this morning (PG&E's outage maps currently appear to be on the fritz, so updates are hard to find). Officials with the county and PG&E have been so far unable to provide any timetable for restoration to the areas along state routes 299 and 96, including Willow Creek and Hoopa.
Thadeus Greenson
A look at PG&E's very empty community resource center Thursday morning.
The Humboldt County Office of Education recently sent out a revised lists of schools that are open today, which can be found
here
.
College of the Redwoods will be back on a normal schedule tomorrow at all sites but the downtown Eureka location, Community and Workforce Education, is open, according to a release.
Power has also been restored to Humboldt State University, but the campus will remain closed today but open back up Friday. The Health Center Rec Center, Nelson Hall East are now back open for students and a free dinner will also be offered for students, faculty and staff at the J from 4 to 8:30 p.m.
PREVIOUSLY:
Most of Humboldt County is waking up with the lights on.
After just about 24 hours without power, lights flickered on in Eureka at about 12:30 a.m., followed by McKinleyville around 3:30 a.m. As of 6:40 a.m., power had been restored to the vast majority of the county, with the exception of the inland stretch on State Route 299 from the county line through Willow Creek and up State Route 96 through Hoopa and Orleans. (
Iłwai kiliwh
market is open as is the
Hoopa Mini Mart and Service Station
, for those needing gas and supplies out there.) Oh, and there's one customer near Fortuna who, for some unclear reason, PG&E's map still lists as having a safety related outlet.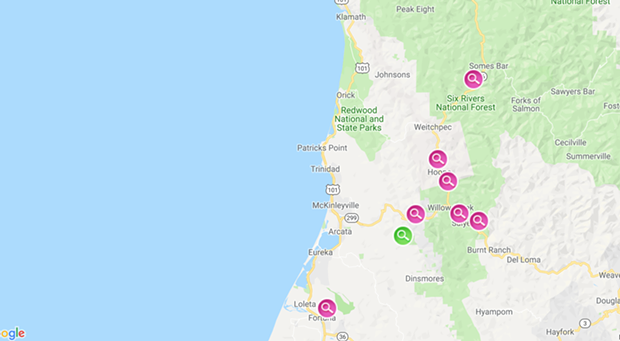 Screenshot/PG&E
A screenshot at 6:40 a.m. of PG&E's outage map in Humboldt County.
PG&E shut down power to hundreds of thousands of customers spread through 34 California counties, including an estimated 60,000 in Humboldt County, beginning early Tuesday morning in an effort to prevent wildfires amid windy, dry weather conditions. The company had indicated Monday that Humboldt County would not be included in the blackout, only to reverse course later in the day, leaving county residents little time to prepare.
Tuesday evening and throughout Wednesday, gas stations saw lines spill from their lots and stretch in to the streets, sometimes for blocks, as stores saw runs on bottled water, food and ice. The blackout prompted business closures throughout the county, and most county schools will be shuttered today, with all closures announced yesterday afternoon remaining in effect.
At a press conference Wednesday morning, Humboldt County officials indicated the county was faring well thus far but urged safety, preparedness and caution, warning the blackout could stretch into or even through the weekend. But good news came late Wednesday, when PG&E indicated weather conditions had improved and it would begin the process of inspecting lines and working to "re-energize" Humboldt County. About the same time, State Sen. Mike McGuire tweeted that power restoration would be starting that night.
Then in a wave, lights started flickering on, making Humboldt County, the first county in the state to lose power, the first to get it back in a blackout that PG&E cautions may be the new normal with a changing climate increasing wildfire risks.