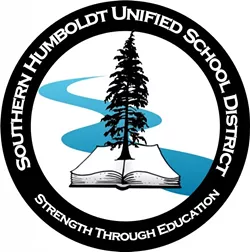 Students and parents face another transition after Southern Humboldt Unified School District Superintendent Don Boyd and South Fork High School Principal Cyndi Aguiar handed in their resignations during a closed session school board meeting last night.
"I was surprised," said board member Michelle Bushnell when reached by phone last night. "And disappointed for our community."
She said she couldn't comment on the reasons the two resigned.
The last two years have seen a number of high profile conflicts in the district. A South Fork High School coach of 14 years and eventually its athletic director, Andy Olsen resigned in 2018, there was a lawsuit after Student Service Technician Ann Constantino's job was eliminated, a dispute over closing Agnes Johnson Elementary School in Weott and the controversial release of long-time music teacher Paul Schmollinger.
Boyd and Aguiar, both of whom were hired in 2017, are slated to finish out the school year.
"We negotiated with them to stay until June 30," Bushnell said.
For nearly the last decade, the district has been unable to keep administrators for more than a handful years, creating a continuity problem for the community.
"It is going to be hard on our schools," Bushnell said. "I feel like we need consistent administration."
Leland Salomon, a South Fork parent, expressed dismay after learning of the resignations.
"There is no chance to get ahead if we keep changing direction," he said. "[It's] really sad that we can't get career people here that care about our school and will stick around."
He said that one of his children graduated just last year and the other is in 10th grade. He feels the constant changing of administration has led to deficiencies in the staffing of the school.
"My children have had whole years of required classes that didn't have teachers," he explained. "This greatly effects the overall education of our children. ... I can't see how it could be good to have a constant change out of your higher level positions. … Consistency is key in accomplishing goals and without a consistent leadership we end up reinventing the wheel every time we have a changeover."
Editor's note: In the interest of full disclosure, it should be noted that Ann Constantino and Leland Salomon are long time friends of this reporter.

This story originally appeared at www.kymkemp.com and is reposted here with permission.