The two male Fortuna High School students
arrested yesterday
afternoon for allegedly plotting to harm fellow students may have had the means to carry out the attack, Fortuna Police Chief Bill Dobberstein told the
Journal
after a press conference this morning.
"There is some evidence that they did have the means," Dobberstein said, adding the extent of those means is still under investigation.
The police chief declined to answer whether that meant access to firearms or other weapons, but said evidence collected last night at the suspects' homes, one in Rio Dell and one in Fortuna, indicated the students may have had what they needed to follow through with their plot. Dobberstein also said at this point there are no additional suspects in the case and he doesn't believe there is any ongoing threat to the public.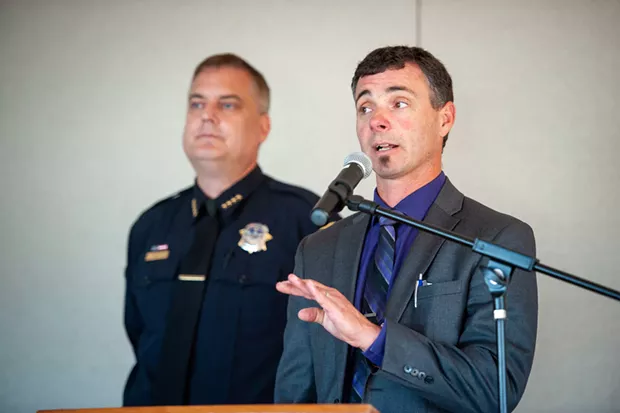 Mark McKenna
Fortuna Union High School District Superintendent Glen Senestraro spoke to parents about how they were notified of the incident and the short notice between the announcement and the press conference.
At a joint press conference, Dobberstein and Fortuna Union High School District Superintendent Glen Senestraro stressed that they are limited in what they can release to the public at this point, noting the suspects are juveniles and have certain confidentiality protections and that they don't want to jeopardize the ongoing investigation.
Dobberstein said two students came forward yesterday afternoon to a school administrator, telling him they'd heard and seen things that made them fear the two suspects, one 17 and the other 16, were plotting to harm fellow students. The chief said officers were on scene at the school within minutes of being notified and had the suspects in custody within an hour, after they were found in possession of "information" that validated the other students' allegations.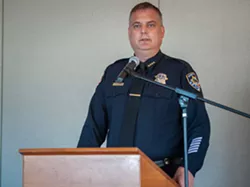 Mark McKenna
Fortuna Police Chief Willian Dobberstein answered questions from the audience.
The chief said the plot targeted "a fairly large group" of "particular students" but declined to elaborate whether that meant it named specific students or a particular student group. He said there is currently no indication this was a hate crime or that the suspects were acting in accordance with any particular ideology.
"I don't know the motivation but on first glance it appears this is not a hate crime," he said.
Both officials stressed the importance of the close working relationship between the high school and the police department, noting that school resource officer Lindsey Frank has an office on campus.
Senestraro said the incident went "as well as it could have gone," saying this is how the system is supposed to work: students heard and saw things they found concerning, and reported them to administrators who took swift action.
"Someone saw something, someone said something and we were able to get involved immediately," he said, adding he feels that's indicative of the proactive efforts of school staff to get to know students and interact with them.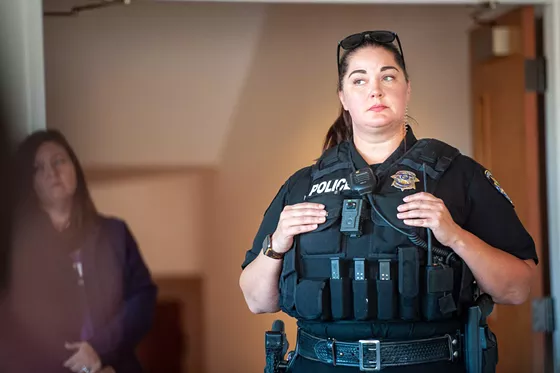 Mark McKenna
Fortuna school resource officer Lindsey Frank attended the conference where Fortuna Police Chief noted that she had been building trust with the students at Fortuna High and other schools in the Eel River Valley.
Dobberstein declined to give any additional information about the reporting students, saying, "The suspects have no idea who they are and we intend to keep it that way."
Fortuna High School parents attending the press conference expressed some frustration that they weren't notified of the incident until this morning, with some saying they may have opted to hold their kids out of school today had they known. Senestraro stressed that he heard those concerns, but said community notification in incidents like these is a balancing act between wanting to release accurate information and getting word out quickly. He added that officials were confident there was no ongoing threat to the campus after the suspects were taken into custody yesterday.
"As much as we're scared and we're frustrated, I see what you guys are doing and I appreciate it," said one parent, her voice breaking with emotion. "Thank you to our officers and thank you to our school because, at the end of the day, everyone went home."
Mark McKenna
Concerned parents listen as Fortuna officials speak at a press conference.
Dobberstein said the investigation remains ongoing but FPD intends to recommend the suspects be charged with making terrorist threats, conspiracy and disruption of a school. Humboldt County District Attorney Maggie Fleming said her office has not yet received police reports in the case and has consequently not made a charging decision. The suspects remain held in juvenile hall.
Senestraro said he's been in contact with the Humboldt County Department of Health and Human Services, which is making counseling resources available to students, parents and staff on campus. He repeatedly said he's very pleased with the way students and staff responded to the incident. Things, he said, could have gone much differently had two students not decided to come forward and report what they'd heard and seen.
"From the school side, that's what we preach … you've got to say something," he said. "I feel like this went as well as it could have gone and that brings me stress every single minute of every day."