Humboldt County officials are hoping to get some clarity this morning on what they should expect from the PG&E Public Safety Power Shutoff that the company has warned may impact the entirety of the county beginning Saturday evening.
As with the shutoffs that left the county
dark for 28 hours
on Oct. 8 and Oct. 9, information flowing to officials and the public from the company has been inconsistent. PG&E told county officials yesterday afternoon that the outages would be localized in areas of high fire risk, estimating that about 2,188 customers would lose power. But around 3:30 p.m., just a few hours later, the company released a map of anticipated outage areas that included the county's major population centers and areas with no elevated fire risks.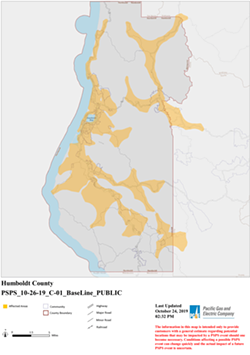 The PG&E outage map released this afternoon.
"I think you sense the frustration," Humboldt County Sheriff William Honsal told the
Journal
last night. "They told us 2,188 and when they release the map three hours later, they show virtually the entire populated areas of the county being affected. When we try to get clarification, nobody can clarify for us what the true information is. So we are simply just pushing out what PG&E told us. We urge people to call PG&E to complain about the lack of information because we are doing that same thing."
Journal
emails to PG&E seeking clarification have gone unreturned. But the Humboldt County Office of Emergency Services reported on its Facebook page last night that the issue is PG&E's two transmission lines into Humboldt County — along state routes 299 and 36 — could be shut down, which would sever the entirety of county from the state grid. According to a report from the
Redding Searchlight
, officials in Shasta County — where the transmission lines coming into Humboldt County originate — were told yesterday to prepare for a shutdown that could begin around 10 p.m. Saturday and extend through Monday afternoon.
Locally, officials are warning that residents should be prepared for the shutoff to last several days, noting that even after the fire conditions subside, PG&E will have to do line inspections and potentially repairs before restoring power. OES was also advising that, as of last night, PG&E's outage maps and online address search tool did not seem to be accurate, at least based on the information the company had provided to the county.
Mark McKenna
The line for gas at Costco in Eureka stretched out of the parking lot and around the block on the eve of the last shutoff.
Honsal also warned that there are elevated fire risks in portions of Humboldt County so residents should be mindful and act accordingly. He said that means no outside burning, making sure camp fires are fully put out, securing tow chains, being careful with cigarette butts and diligent with candles, among other things, adding that people should also immediately report any fires they see.
The
Journal
compiled the following list of preparation tips from the
U.S. Department of Homeland Security
, the
Red Cross
, the
Humboldt County Office of Emergency Services
and others. If you read through it and consider yourself prepared, we urge you to check on friends, family and neighbors to make sure they are, too, especially seniors, people with medical issues and other vulnerable populations.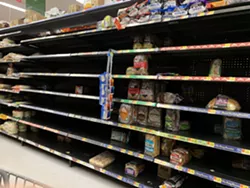 Submitted
The barren shelves at Eureka's WalMart on the eve of the last blackout.
Food and Water:
Have enough water and food that doesn't require refrigeration (including pet food for the furry members of your household) for three days. Officials recommend one gallon of water per person per day.
Medications:
Refill prescriptions to make sure you have enough on hand to make it through the blackout, keeping in mind that the last outage forced most local pharmacies to close.

Light Sources:
Make sure you have flashlights or battery operated lanterns and backup batteries. If using candles, use caution and never to leave them unattended. Flashlights and lanterns with solar or kinetic chargers are optimal.
Fuel:
Fill up or top off your car's gas tank and, if you have a generator, check that you have enough fuel on hand to operate it for several days.
Cash:
Many retailers won't accept debit or credit cards through the blackout, so withdraw some cash to have on hand.
Charge up:
Pre-plan to make sure all your electronic devices — from cell phones to medical equipment — are fully charged when the power goes out.
Keep Fridge/Freezer Cold:
In the lead-up to the blackout, turn the temperatures down on your freezer and refrigerator, which will help keep them cold longer. Stock the freezer with ice. (This can be done with store-bought ice or by simply filling containers with water and freezing it.) When the power shuts off, put some of the ice in the refrigerator, which will keep it cooler longer. And after that, don't open either unless necessary. Some suggest wrapping the fridge/freezer in sleeping bags will help insulate it and keep it cold longer. Officials suggest that just left closed, a refrigerator will keep food cold for about four hours without power and a full freezer will stay frozen for about 48 hours (half-full freezers will stay cold half as long). Some officials suggest keeping a digital thermometer on hand to test any food being used from the fridge/freezer during a blackout, noting that food that's internal temperature has risen above 40 degrees for two hours or more (or has an unusual odor or texture) should be thrown away.
Disconnect Surge-Prone Electronic Devices:
Make sure those computers and other electronics are unplugged in case there's a surge when the power comes back on.
Sign up for Alerts:
Sign up to receive alerts from both the
Humboldt County Office of Emergency Services
and
PG&E
.
Stay Safe:
Don't run generators or use camping stoves inside. Drive with caution, recognizing that intersections with down or blinking traffic lights are four-way stops. Stay home if you can.
Check on Your Neighbors:
You're weathering the blackout OK? Great, check on those around you, too.
During the last blackout, the
Journal
inventoried local gas stations and stores that remained open. Check out those lists
here
and
here
, as they are likely indicative of which ones will be open this weekend. And if you have additional preparedness tips, please share them in the comments.