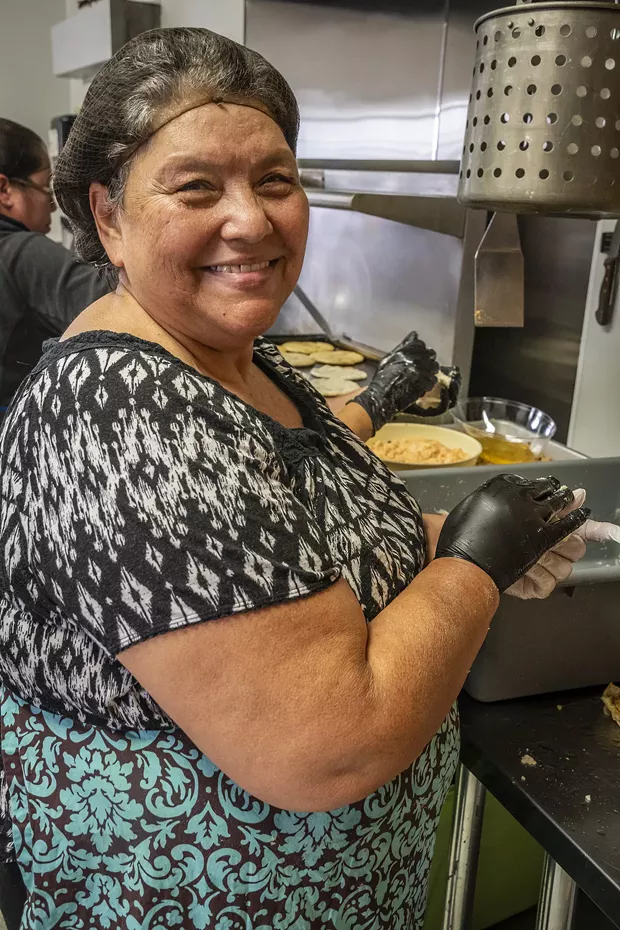 Mark Larson
Dora Portillo (left) worked with the group of women volunteers in the kitchen assembly line.
If you had walked into Dora Portillo's house Oct. 17, you would have been welcomed by the smell of fried pork, beans and salsa. She was preparing chicharron (fried pork ground with spices and vegetables) and bean stuffing that would fill hundreds of her homemade pupusas (a Salvadoran food made of corn meal that's stuffed with different fillings, primarily cheese, beans and/or pork, and topped with salsa and curtido, a pickled slaw). Portillo was preparing for a fundraiser held a couple of days later at Eureka First Methodist Church, aimed at raising money to keep her in the United States, and — as the 100 pounds of pork shoulder she had on hand to cook that day would attest — it was no small task.
True North Organizing Network organized the pupusa fundraiser for Portillo, who will be applying for her U.S. residency. Portillo, who has legally been in the United States for more than 30 years under the Temporary Protection Status (TPS) for El Salvadorian immigrants and qualifies for residency, needs to raise $5,000 for the legal expenses of applying for residency as the TPS program is expected be officially discontinued in January.
"The fundraiser was something the [Local Organizing] committee felt strongly about," said Julia Lerma, director of organizing at True North, where Portillo works as a volunteer. "She's a big part of our organization and we wanted to support her."
TPS is a program in which the U.S. Department of Homeland Security offers foreign nationals already in the U.S. protection from humanitarian catastrophes in their country of origin if it's not safe for them to return. In 2017, DHS had announced the cancellation of the TPS program and the imminent deportation of TPS holders from five countries that included El Salvador, Haiti, Sudan and Nicaragua by 2019. However, in 2018, U.S. District Judge Edward M. Chen issued an injunction to temporarily block the program's cancellation, which then led DHS to extend the deportation deadline until January.
However, there has been some confusion as to where the TPS program stands for El Salvador, as it was reported Oct. 28 that the Department of Homeland Security had extended it but officials later confirmed the program is still slated to be discontinued, adding that the department would be "extending the validity of work permits for El Salvadorans with Temporary Protected Status through Jan. 4, 2021," and it will also be giving El Salvadoran nationals an additional year after TPS-related lawsuits to return to El Salvador.
According to Portillo, she was advised that the program would be extended for two more years, which now gives her more time to apply for her residency.
"Either way, I am going to apply for my residency," Portillo said. "But first I have to reapply for my work permit before anything else. [The extension] just gives me more time and no rush."
Portillo first came to the U.S. in 1986 from her native El Salvador. She lived in Long Beach and worked under the TPS program as a caretaker, housekeeper and cook while raising her children. With the program's slated termination, Portillo faces deportation to a country she hasn't returned to in more than 30 years.
Mark Larson
Dora Portillo (left) worked with the group of women volunteers in the kitchen assembly line.
"I'm not afraid of being deported — that's my home country and I will gladly go back, but, of course, I would like to stay; I'd like to stay here with my children and grandchildren if God allows," Portillo said, adding that it's dangerous to return to El Salvador for a person who is unknown locally, especially those coming from the U.S. as it is perceived they come with money.
Portillo first fell in love with Humboldt County when she came to drop her daughter Jennifer Ventura off at Humboldt State University nine years ago. When Ventura later asked her mom to come live with her, Portillo didn't hesitate, deciding to leave Southern California and move to Arcata and bringing a few of her other children along, as well.
While in school at HSU, Ventura began volunteering with True North Organizing Network and one day she had asked Portillo to attend a meeting with her. From then on, Portillo began volunteering herself. In 2016, Portillo became a volunteer leader for True North's Local Organizing Committee and she continues to work with the organization.
In 2018, Portillo's other daughter
Claudia Portillo
— who was born in El Salvador but came to the U.S. when she was only 7 years old — was detained by U.S. Immigration and Customs Enforcement for seven months after going to a regular check-in visit with immigration officials. Dora Portillo said that with the help of the Organizing Committee at True North, they were able to help raise money for Claudia Portillo's bond to be released.
"[Dora's] seen what happens when people come together to organize," Lerma said. "She's seen the results."
Dora Portillo and True North's Organizing Committee brainstormed different fundraising plans for her legal expenses before they came up with the idea of selling pupusas, an El Salvadoran dish that's hard to come by in the North Coast.
"I started doing the math and it added up," Portillo said. "I need around $5,000 and I thought to myself, 'Where am I going to get this kind of money?' and that's when Julia looked at me and said, 'Why don't we sell pupusas?' And now we're here trying to figure out how we're going to make [hundreds of] pupusas."
True North had set up a pre-order option for Portillo's pupusas, where people could pay for their order beforehand and pick them up from the church any time on Oct. 19. But after a few days of posting the fundraiser online and sending out emails, it had raised more than $2,000 worth of pupusa orders, according to True North's Organizing Coordinator Ezmy Ortega. They had so many orders that the nonprofit had to shut down the pre-order option on its website at noon the Friday before the fundraiser. So, Portillo with the help of Dahlia Lerma, another True North employee, began preparing the pupusa fillings a couple of days before, hoping to get a jumpstart on the abundance of orders.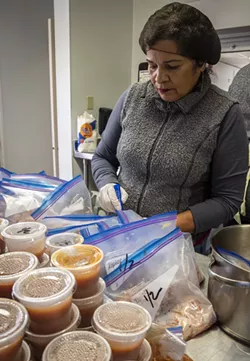 Mark Larson
Julia Lerma, of Eureka, director of organizing for True North, was in charge of the event and helped out in the kitchen.
Although Portillo is from El Salvador, she didn't know how to make pupusas until her daughter's classmates at HSU asked her if she could cook some for them as they were missing home and needed a familiar meal. According to Portillo, she didn't have a recipe or someone she could ask for an authentic one, so she started to experiment.
She'd make the chicharron again and again, adding tomatoes, onions and spices, until it tasted like the pupusas de chicharron she'd eaten when she was younger and living in El Salvador. She experimented with different kinds of cheeses, ones that were gooey and others that were firm, until she found the perfect mix that doesn't ooze out of the pupusas too much. The masa (dough) was something she also experimented with by trying tips and tricks she'd heard from pupusa makers in Los Angeles until she finally got it right.
"The whole recipe is my own," Portillo said. "As in, I made it my own way. I didn't follow a recipe. I made everything until it tasted just right. These pupusas are my own recipe. I created it here in Humboldt."
On Saturday Oct. 19, True North began setting up the Eureka Methodist Church kitchen at 10 a.m. and by noon the kitchen was full and all hands were on deck as Portillo and a few friends cooked the pupusas while other True North volunteers and workers prepped the orders, filling cups with curtido and sandwich bags with salsa, and setting up the orders into separate take-out bags.
True North spent almost 12 hours in the kitchen cooking and then cleaning the space as they had more orders coming in throughout the day. According to Ortega, they made 862 pupusas and another 125 the following week for HSU students.
All in all, they sold $3,000 worth of pupusas. Minus the cost of supplies and materials, the fundraiser raised $2,300, almost half of what Portillo needs to apply for residency. True North has also set up a
GoFundMe
page for those who would still like to donate to help with Portillo's legal expenses.
"I'd like to give thanks to those in the community that have given me their support, may God bless everyone," Portillo said, adding that she loves working for True North. "It's a beautiful thing to volunteer for this organization. They help with fundraising and organizing, and I am grateful."