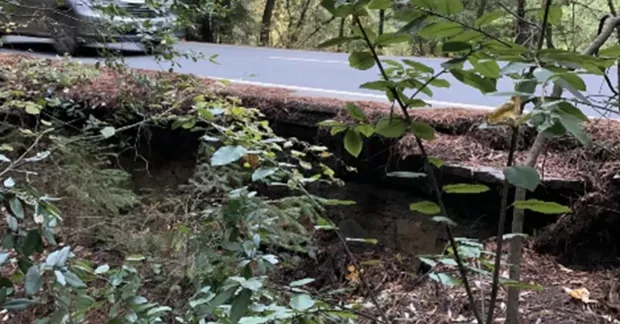 Photo provided by Supervisor Estelle Fennell
A culvert area in Whitmore Grove west of Redway is failing and undercutting the asphalt.
Steve Finch, the county of Humboldt' road division manager, hopes the Briceland road closure might not have to happen.
The culprit,
a failing culvert on Briceland Thorn Road just west of Redway
, had State Parks and the county for ways to make the repairs, which originally included making upgrades on the only available detour — Old Briceland Road — then closing Briceland Thorn Road for an estimated two weeks of work.
While one of the most traveled rural roads in Humboldt County was closed for repairs, traffic would be diverted to Old Briceland Road, where improvements are currently underway.
Finch said that the county has a new proposal for the collapsing culvert that could keep Briceland Thorn Road open while it is being worked on, allowing one lane traffic to pass through the area during construction.
Finch believes that after repairing the culvert bed with concrete, a PVC liner can be used to repair the pipe.
New traffic signals for one lane traffic control were scheduled to be put in place today. Then, on Saturday, workers will begin digging on the failed culvert, removing a section.
After filling the voids in the damaged culvert, about two days of work, crews will then pull a flat liner made of PVC-type material through the culvert.
"They heat it up with steam until it is like a noodle," Finch said.
The liner is then expanded to fill the existing pipe area. Afterward, cold air is pumped through the "noodle," which fixes the liner into the new shape. This will take another day, he said.
"One lane, with this plan, will always stay open," Finch said, adding it will cut the previous up to one-hour delays down to just minutes.
"If this option goes as planned, we will only have to keep one lane closed in [Whittemore Grove]," states a press release issued by the County. This means traffic will not have to be rerouted over Old Briceland Road.
"If this does not work, we will have to go to Plan B, which is a full road closure for approximately 10 days," the press release notes.
Finch is very hopeful though. "I believe it will work," he said.