Courtesy of Eva York
Spenser Stratton, Taj Ortiz-Beck and Adrian York.
This morning's
Washington Post
feature's a story about four local teenage surfers who rescued two brothers on Nov. 11 in the waters off Trinidad State Beach.
The rescue, first reported in the
North Coast Journal
, took place around 1:30 p.m. after the 15 year old and 20 year old visiting from out of town were swept out past the breakers on a foggy afternoon.
The four teens (hailing from Trinidad, Westhaven and Arcata, according to Dillon Cleavenger, a lifeguard with the State Parks who knows them) were surfing when they saw the two brothers in distress. "[T]hey noticed two men panicked and screaming for help as they were being sucked out against their will in a rip current," Cleavenger said.
According to the
Post
's article, "We told them, 'Calm down — we got you!' " said one of the rescuers, Narayan Weibel, age 16. "Being out in that cold water without a wet suit is like taking an ice bath. They were having a hard time keeping their heads above water and thought they were going to die."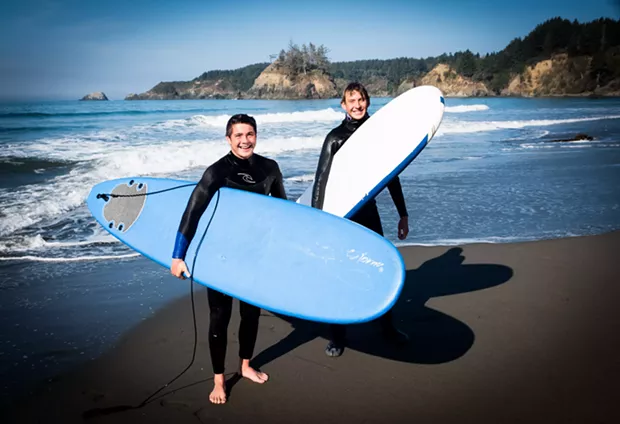 Courtesy of Eva York
Narayan Weibel and Adrian York.
Cleavenger said he was off duty when he "got a report of juveniles in the water at Trinidad State beach."
"State Parks Lifeguards (Dillon Cleavenger and Keven Harder), [Cal Fire] Trinidad, numerous law enforcement entities and the USCG all responded immediately," he said in an email. "As we are heading into the call, we got word from dispatch that surfers had rescued the juveniles and there was no need for medical!!!"
He said he was thrilled to discover that "the surfers where not only familiar faces but one of our very own lifeguards Adrian York, 2 former junior lifeguards Spenser Stratton and Narayan Weibel and a fourth surfer Taj Ortiz-Beck."
Cleavenger said, "These boys made all the difference … and the community as a whole owes them a big thanks for their selfless and timely actions."
At 16, York just made the minimum age cutoff to become a lifeguard and was recently certified after undergoing rigorous training with five others from the North Coast down in Huntington Beach.
"We're are very proud," says Keven Harden, a supervising ranger at Patrick's Point State Park who oversees the junior lifeguard program, told the
Journal
last week. "To see this ending. . .. This was our vision of the program."