Iridian Casarez
St. Joseph and Redwood Memorial Hospital healthcare workers striking in front of the St. Joseph Lane entrance to St. Joseph Hospital in Eureka.
Employees at St. Joseph and Redwood Memorial hospitals donned red shirts and held picket signs demanding fair labor practices as they crowded the corner of the entrance into St. Joseph Hospital in Eureka yesterday.
They were protesting the hospital's staffing shortage and the state of new employee salary negotiations, according to a press release sent by the National Union of Healthcare Workers, which represents about 500 healthcare workers in Humboldt County. According to the release, 92 percent of caregivers at the two hospitals reported that "their shifts are understaffed at least once a week" and that "nursing assistants reported having to care for as many as 20 patients at a time."
The release also states that the hospital's health system, Providence St. Joseph Health, made more than $197 million in operating profits (including $63 million from both hospitals in Humboldt County) in the last year but isn't investing its resources to alleviate staffing problems. The release also alleges Providence is also looking to cut employee health benefits, reduce vacation time and offer just a 1.5 percent raise in each of the next two years.
"We need caregivers to provide quality patient care," Kellie Shaner, a monitor technician at St. Joseph, said in the release. "And our hospitals won't be able to recruit or retain quality workers if we can't make enough money to support our families."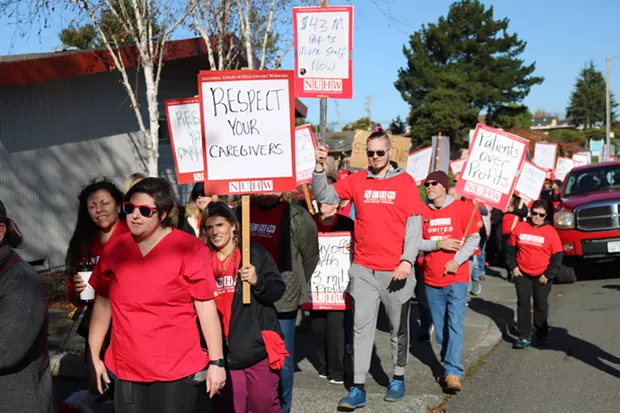 Iridian Casarez
Healthcare workers marching toward Walgreens on Harris Street.
According to Renée Saucedo, a local organizer with NUHW, at least 250 hospital caregivers participated in the protest yesterday. St. Joseph Hospital Spokesperson Christian Hill said the strike forced the hospital to close down some non-emergent services, like imaging services, and lab services, which were closed at both local hospitals.
The hospital contracted an outside agency to provide replacement caregivers for workers who participated in the strike. According to Hill, the agency requires a five day minimum contractual commitment to secure its services, so those workers will be at the hospital until Monday, Nov. 25, which means regular hospital caregivers who participated in the strike are, in a way, being forced to take a few days off, sparking the union to call it a "lock out."
"We are not locking out employees," Hill said in an email to the
Journal
. "It's important to note that the union chose to strike knowing that we needed to make arrangements to care for our community … Employees who honored the strike [on Wednesday] will be able to report to work after the replacement period ends on Monday, Nov. 25, for their next regularly scheduled shift. Some striking employees may be able to return earlier if patient needs dictate."
According to another release sent by NUHW, the move is being seen as a form of retaliation by the hospital.
"We went on strike to win a contract that protects our patients from staffing reductions and provides good wages and benefits so that our hospitals can recruit and retain qualified care caregivers," said Kellie Shaner, a monitor technician at St. Joseph Hospital Eureka. "By locking us out and making patients endure four days with unfamiliar caregivers, Providence is making it clear that it wants to silence us — not work with to improve patient care."