HCSO
One of the many trees that came down during the storm.
FIFTH UPDATE:
Caltrans reports at 3:30 p.m. that traffic on U.S. Highway 101 at Miranda is now moving. Southbound lanes have been moving, with northbound expected to open "any minute now," according to Facebook post.
FOURTH UPDATE:
Caltrans is reporting at 2 p.m. that "U.S. Highway 101 has closed in the Miranda area of Humboldt County."
"Crews are responding to multiple collisions due to hail and icy road conditions," the Facebook post states. "We currently do not have an estimated time of reopening but will update you here as soon as new information comes in. Please, please, please, slow down out there and drive for the conditions on the road."
According to Caltrans'
QuickMaps
site, the closure is expected to last until at least 6 p.m.
THIRD UPDATE:
Snow plows were clearing roads across the region just before 12:30 p.m., with one operating on U.S. Highway 101 between Orick and Klamath, another between Blue Lake and Willow Creek as well as near Salyer on State Route 299 and another clearing State Route 36 around Dinsmore, according to the Caltrans QuickMap.
SECOND UPDATE:
The Humboldt County Office of Emergency Services says PG&E is reporting 19,500 customers were still without power this morning after wild winds hit the region.
"PG&E crews are beginning damage assessments and once complete will begin power restoration," the OES post states. "There is no timeframe on how long restoration will take. It is possible that outages may continue into tomorrow."
For updated information, visit PG&E at:
www.PGE.com/outages.

UPDATE:
According to Samantha Karges, spokesperson with the Humboldt County Sheriff's Office, there were no reports of damage to critical infrastructure from the storm, but the office did receive reports of fallen trees and power lines. Karges also said that there were no reports of storm-related injuries made to the sheriff's office.
As of 11:30 a.m., outages included 500 in the Freshwater area, another 550 in a swath stretching from Ferndale to the Lost Coast, almost 3,000 in McKinleyville/Clam Beach, nearly 2,000 in Blue Lake and around 1,400 from Patrick's Point to Westhaven. Some customers are coming up on 24 hours without power, according to the PG&E outage map.
PREVIOUS:
Thousands remain without power this morning after the first major winter storm made its way through the region, leaving downed trees and causing dozens of accidents.
The National Weather Service in Sacramento reported the storm had undergone "Bombogenesis," which is "defined as a mid-latitude cyclone that drops in surface barometric pressure by 24 or more millibars in a 24-hour period."
While the sky is clearing, the National Weather Service warns that the storm will continue to bring snow to the mountains and low-lying areas may see hail through the afternoon.
"Winds have generally diminished but will remain locally gusty through this morning," the NWS weather advisory states. "Major travel impacts will continue today with many chain restrictions and delays, particularly across interior mountain roadways above 1,500 to 2,500 feet in elevation."
Damage caused by the high winds includes the canopy at the Texaco Station in Eureka at 4th and R Streets, which was partially taken down by the storm, and a bayside billboard along the U.S. 101 Safety Corridor.
The California Highway Patrol reported a major uptick in calls for response during the storm. As of 10:30 p.m., CHP dispatch had more than 360 calls compared to 130 the day before.
The California Department of Forestry and Fire Protection (Cal Fire) answered over 90 calls for service during yesterday's storm in a 12 hour period.
According to a press release, the Cal Fire Humboldt-Del Norte Fortuna Emergency Command center dispatches for 36 agencies and ambulance companies throughout Humboldt County for all types of emergency services like vehicle accidents, power issues, fires and medical aids.
Cal Fire is urging residents to drive safely during harsh weather conditions.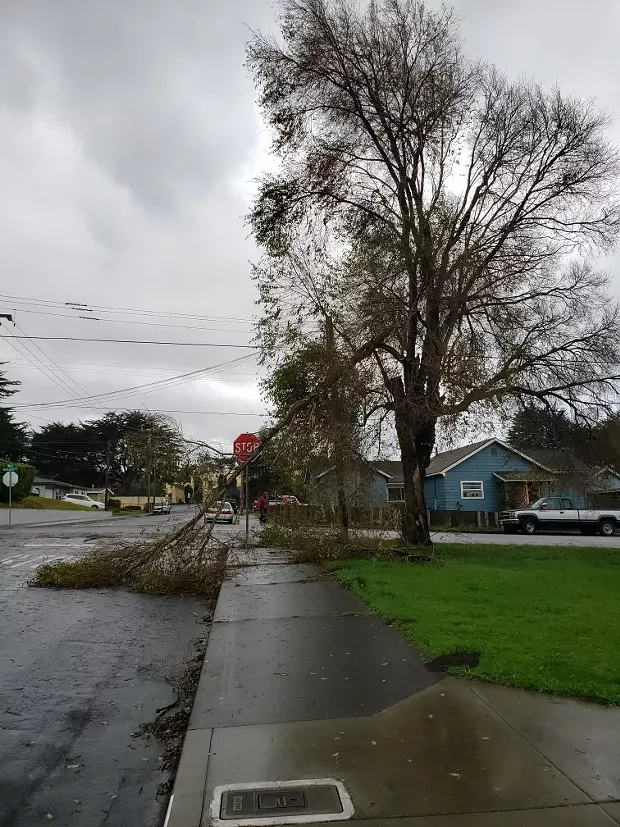 Kali Cozyris
A branch broken off a tree as a result of the storm.
"Do not drive if you don't have to," the release states. "Be prepared in the event of a power outage. Have flashlights and food available."
The Humboldt Bay bar entrance, which was closed last night, has been re-open but the Eureka office of the National Weather Service warns that waves are still in the 15-to-18-foot range.
This post will be updated throughout the day.