Thousands of Humboldt County residents woke up on this frosty Thanksgiving morning still without power and many are looking at several more nights in the dark.
A scattering of outages continues in the region after a so-called "bomb cyclone" hit Tuesday and Wednesday, leaving a swath of damage, including downed trees and power lines.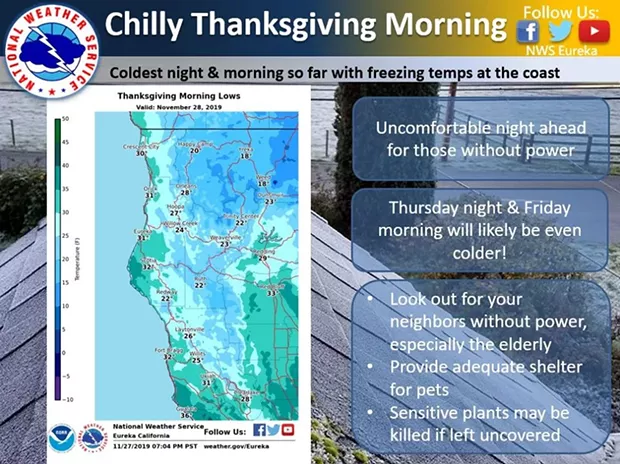 While the skies have cleared, frigid temperatures have ushered in the holiday. Daytime temperatures are expected to be in the 30s to 40s, while today and Friday morning are expected to bring the "coldest night and morning of the season," according to the National Weather Service, which reminded folks to check in on their vulnerable neighbors, especially those without power.
For many, that could be several days or longer.
"There is widespread damage to power lines that is making it difficult to turn power back on for a large number of customers at one time," the Humboldt County Office of Emergency Services stated in a Facebook post on Wednesday. "Power will return in increments but some outages may last through tomorrow or longer."
According to the PG&E outage page, 175 customers in the Trinidad to Patrick's Point area have an estimated restoration date of Dec. 1, as do another 65 in McKinleyville, 220 in the Kneeland area, 200 in the area off of Alder Grove Road, 60 next to Sequoia Park Zoo and 150 around Big Lagoon.
Another patch of outages, including 350 in the Glendale/Blue Lake area, 400 around Fickle Hill, more than 700 near Westhaven, 90 from Orick stretching to the Praire Creek Visitor Center and another 150 near Sequoia Park have no estimated time for restoration.
Some 500 customers in Freshwater are expected to regain power today around 9 p.m., according to the outage map.
Read the full Facebook post from the National Weather Service office in Eureka below:
Expect the coldest night and morning of the season so far, just in time for Thanksgiving. Unfortunately, with thousands of people in our area still without power after Tuesday's storm, temperatures will drop near or below freezing for almost the entire coast of Del Norte, Humboldt, and Mendocino county. Be sure you check on your neighbors, and take care of your pets!

Freeze warnings are in effect for coastal areas, where the growing season has not officially ended. It will not warm up too much during the day either, with just 30s and 40s in the afternoon for most of northwest California. For the most current and detailed information visit www.weather.gov/eka and search for your location. Thursday night & Friday morning will likely be even colder!