A couple dozen people turned up at the Humboldt County Courthouse on Friday evening, most carrying signs, for a hastily planned protest of the prospect of a U.S. war with Iran.
The protest followed the Jan. 2 U.S. drone strike in Iraq that killed Qasem Soleimani, an Iranian major general in the Islamic Revolutionary Guard Corps and commander of Iran's clandestine Quds Force. Both widely revered and feared within the region, Soleimani has been a major force in conflicts across Iraq, Lebanon and Syria, and polls have shown him to be Iran's most popular political figure. He's also regarded by the United States as the head of a terrorist organization, one blamed for the deaths of a host of U.S. troops in multiple conflicts, including by flooding Iraq with improvised explosive devices in the mid 2000s. (Read a stunning profile of Soleimani by the renowned Dexter Filkins
here
.)
Photo by Zach Lathouris
Protesters warn against war with Iran.
While few in the United States are arguing Soleimani was not a serious threat to U.S. lives and interests, some fear his killing will escalate tensions between the U.S. and Iran and put additional American lives at risk. As evidenced by yesterday's protest, some fear another full-blown war.
As the protesters waved signs, some passing cars honked support. Shouts of "Trump 2020" emanated from others. One counter protester showed up but left after exchanging words with a member of the local Veterans for Peace chapter.
Journal
photographer Zach Lathouris stopped by to take a few pictures. Meanwhile, North Coast Congressman Jared Huffman posted a statement about the drone strike to his Facebook page that criticized President Trump for not consulting Congress or U.S. allies prior to killing Soleimani and questioning whether the administration had fully considered the potential ramifications of the strike. See his full statement copied at the bottom of this post.
Photo by Zach Lathouris
The small demonstration in Eureka came together quickly.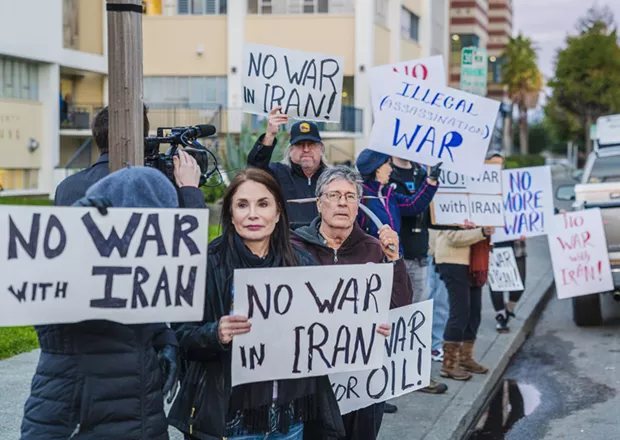 Photo by Zach Lathouris
Protesters outside the courthouse elicit honks and shouts from passing cars.
From Huffman:
I'm deeply concerned that President Trump, acting impulsively, without consulting Congress, without legal authorization, without consulting our allies or the Iraqi government, has taken us to the brink of a major war by ordering the assassination of Iran's top military leader last night in Baghdad. It's also disturbing, though predictable, that instead of honestly acknowledging the virtual certainty of violent retaliation in the days or weeks ahead, Secretary Pompeo is gaslighting by saying that Americans in the region are now "safer."
I have zero confidence that President Trump and his motley crew of sycophants have thought any of this through or that they can effectively navigate the chain of events they just set in motion. It's hard to imagine these events leading to anything other than a stronger hand for Iran in the region (especially in Iraq) and further depletion of US credibility.
My concerns about this President's judgment and stability, and the likelihood of this administration running roughshod over Congress' Article I war making authority, was one of the main reasons I voted "no" on the recent defense authorization bill. We must repeal the 2002 AUMF and reassert Congress' Constitutional authority before Trump drags us into a tragic war.
Separately, I'm already cringing at the expectation that Trump will cravenly boast of killing a foreign leader at his grotesque "evangelical" rally in Florida tonight. You would think at least one of the Ten Commandments would give evangelicals cause for somber reflection, but not with this crowd.