Humboldt State University
Stanley Harris at a scholarship reception at Humboldt State University.

Stanley "Doc" Harris, a retired Humboldt State University wildlife professor, passed away Dec. 27. He was 91 years old. In addition to having inspired thousands of students, Harris helped establish Arcata's wastewater facility as a wildlife sanctuary and shared his love of ornithology with birdwatching hobbyists in the North Coast.
Harris ,who worked as a professor at HSU from 1959 to 1992, helped shape the wildlife department into the renowned department that it is today as "he quickly assumed leadership in the department and was one of the early members who grew it to the size that it is now," said Mark Colwell, a a fellow wildlife professor at HSU and good friend of Harris'.
Harris also contributed significantly to bringing the ornithology program to the university, said Rick Botzler, a retired HSU wildlife professor who also worked with Harris.
Botzler and Colwell both said Harris cared tremendously for his students and wanted to see them succeed, adding that he was also a big influence on them.
"If you look across the western United States, you're likely to encounter people who were influenced by Stan," Colwell said. "Fifty-plus graduate students finished their Master's degree with him."
On top of teaching waterfowl and wetlands classes, Harris played a significant role in creating the Wildlife Museum that houses more than 14,000 species in the wildlife department building.
"In my opinion, he more than anyone was responsible for the development of the museum," Botzler said. "Lorie, his wife, also contributed. She was an artist who helped paint the finishing touches and put together the museum. They were a team."
Colwell said that to the end of his days, Harris was still a part of the department, adding that not too long ago Harris visited the museum to meet with its curator and offer advice on the live mount of the California condor that was going on display.
"He took great pride in the department and always showed his inquisitiveness for wildlife," Colwell said.
During his time at the university, Harris was a strong believer in and advocate for field-based learning. He believed in incorporating practical experience in his teachings to give his students hands-on experience. According to Botzler and Colwell, Harris took his students on field trips to local national and state wildlife refuge centers, the Arcata Marsh and wherever there were waterfowl or wetlands, so much so that in 2001 the city of Arcata dedicated a low-lying pond at the Arcata Marsh in his name.
According to the Arcata Marsh and Wildlife Sanctuary map and guide pamphlet, No-Name Pond — which was named by Harris and a few of his students — was dedicated to Harris to honor his work in local ornithology and wetland ecology.
Harris was also one of the "original proponents" who sought to upgrade the wastewater treatment facility into a natural wetland, said Julie Neander, the deputy director of the Community Services department for the city of Arcata — who also grew a relationship with Harris over the years.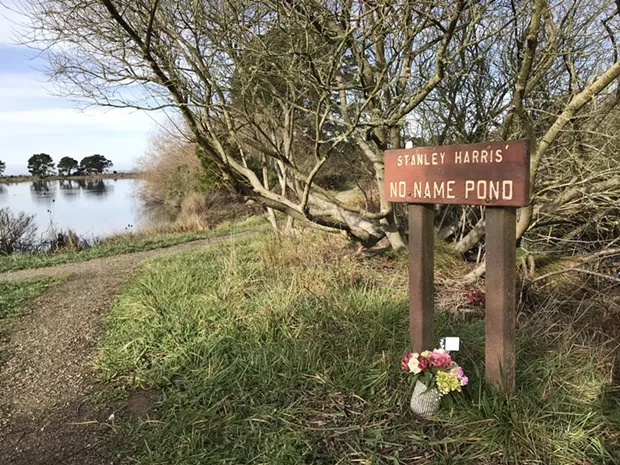 Iridian Casarez
A bouquet of flowers sits below the No-name Pond plaque at the Arcata Marsh days after Harris' passing.

"He was instrumental in [the city] having good data to continue to make the marsh better," she said, adding that, like many other professors and students at HSU, Harris played a pivotal role.
Along with helping create the Arcata Marsh, Harris also brought the world of ornithology to people outside of the professional realm of HSU. Botzler said that Harris spent time identifying and documenting which species lived in the North Coast.
"He opened up the opportunity for them to understand each species, habitats and the larger species composition," Botzler said. "He was a good person and he will be missed."