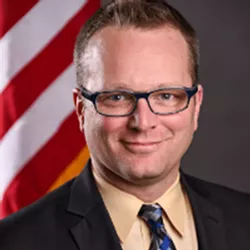 newbrightonmn.gov
Dean Lotter
Dean Lotter will be sworn in tonight as Eureka's new city manager, the latest in a series of milestones for him in recent weeks, including moving into a new home here in town with his wife Wendy and their rescue dog Queso, as well as celebrating his 50th birthday.
Hailing from the Midwest, Lotter comes with 23 years of city management experience, last serving in New Brighton, a suburb of the Twin Cities.
In an interview before landing permanently in Eureka, Lotter told the
Journal
he is not "naïve" to the many issues facing the city but also sees great potential in the seaside town.
"I wouldn't invest the later portion of my career in a city I didn't feel had opportunity," Lotter said.
Read the full story
here
.
The 6 p.m. Eureka City Council meeting takes place at City Hall, 531 K St. Click
here
for a link to the agenda.