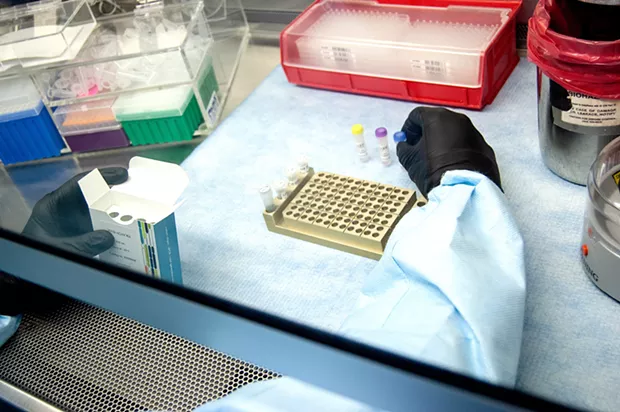 Courtesy of the Humboldt County Department of Health and Human Services
COVID-19 testing in the Humboldt County Public Health Laboratory.
The Humboldt Senior Resource Center will modify some services and programs due to growing concerns about the spread of coronavirus (COVID-19) and its effect on seniors, the population at the greatest risk.
According to a press release, the center will implement social distancing guidelines and modify programs to meet the needs — and maintain the health — of its clients. The senior services office will be open as usual, from 9 a.m to 3 p.m. Monday through Friday, activities, however, are temporarily suspended. HSRC participants are being asked to stay home but staff will be available for medically necessary services.
The Multipurpose Senior Services Program will continue services but contact may be via phone "if medically necessary," and staff is available during normal business hours.
For additional information regarding programming, call HSRC at (707) 443-9747 or visit its
Facebook page
.
The Humboldt County Department of Health and Human Services has also launched a hotline for residents with questions about the virus. It can be reached at covidinfo@co.humboldt.ca.us or at (707) 441-5000. Residents seeking medical advice or questions about testing are asked to contact Public Health at hhsphb@co.humbldt.ca.us or at (707) 445-6200.
Read the full press release below:
Update Regarding Humboldt Senior Resource Center Programs and Services

Eureka, Calif. – Due to the concern of the spread of the Coronavirus (COVID-19), and based on the recent recommendations from the California Department of Public Health and other public health agencies, Humboldt Senior Resource Center (HSRC) will be modifying some services and programs until further notice. At this time of heightened health concerns, HSRC will abide by the following Guiding Principles:


We serve the highest risk population identified by all authorities and our goal is to keep this population as healthy as possible.
Social Distancing (avoiding group gatherings) is one of the most effective methods for preventing the spread of the COVID-19 virus.

Our goal must be for every HSRC program to provide modified services in order to continue meeting the needs and maintain the health of our vulnerable population.





As of Friday, March 13, HSRC programs will be open and operating as follows: Administrative services: Open as usual.





Activities Program: The Senior Services Office in Eureka is open Monday – Friday, 9 a.m. to 3 p.m.; Vita-Tax preparation is available via appointment only; commodities will be distributed as scheduled on March 18 in Eureka and March 19 in Arcata. All other activities are temporarily suspended.
Adult Day Health & Alzheimer's Services: In effort to support social distancing, participants are requested to stay home. Staff are available for medically necessary services, and can be contacted by phone if needed.
MSSP (Multipurpose Senior Services Program): MSSP services will continue but contact may be via phone if medically necessary, and staff are available during normally scheduled hours.
Nutrition Program: Take-out meals are available at all Senior Dining Centers on regularly scheduled lunch days. Reservations are required. Call the dining site of your choice (Arcata 707-825-2027; Eureka 707-443-9747; or Fortuna 707-725-6245) to make reservations. Home Delivered Meals service continues per normal schedules.
Redwood Coast PACE: The program remains open, with Day Center services available on a limited basis as medically necessary.

For questions regarding any program, call HSRC at 707-443-9747. For the most current update, visit our Facebook page. We thank the members of our community for your understanding and cooperation with our modified services and programming during this time.