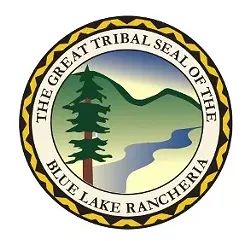 UPDATE:
The Bear River Band of the Rohnerville Rancheria has decided to suspend operations at its Bear River Casino and Hotel, Thirsty Bear Lounge, River's Edge Restaurant, Express Café, Tish Non Community Center, Bear River Recreation Center and Family Fun Center in the face of the COVID-19 health emergency.
The suspensions in operations begin at various points but all will be shuttered by tomorrow morning, according to a press release from the tribe, which also notes the Pump and Play Gas Station and Convenience Store will remain open.
"The tribe is concerned, first and foremost, for the health and safety of its casino employees, casino guests and tribal members," the press release states.
See the full press releases announcing the closures copied below our initial post.
PREVIOUSLY:
In response to COVID-19 concerns and Gov. Gavin Newsom's urging that bars close and restaurants and other venues follow social distancing measures, the Blue Lake Rancheria has announced it will close its casino at 2 a.m. on Wednesday, March 18 and remain shut down at least through the end of March. This includes Alice's Restaurant, Sushi Blue, the Wave Lounge and Lily Pad Café.
According to a press release sent out today, while the hotel remains open, guests will be asked about contact with individuals who've tested positive for the virus before check-in. Play Station 777 Gas Station and Convenience Store will also remain open, though the tribe says it may reassess and limit access.
"The tribe is choosing to act out of an abundance of caution and is honoring Gov. Gavin Newsom's request," the release reads, "as well as strictly following recommendations from the World Health Organization (WHO), the U.S. Centers for Disease Control and Prevention (CDC), the Humboldt County Department of Health and Human Services, and other trusted sources of information."
Tribal government and services, such as meal delivery, will continue uninterrupted.
Read the full press release below:
Blue Lake Casino Temporarily Closing Amid

Coronavirus

The Blue Lake Rancheria values your business and is actively monitoring the coronavirus (COVID-19), taking the matter very seriously. From the direction of tribal government, the tribe is choosing to close the Blue Lake Casino, Alice's Restaurant, Sushi Blue, the Wave Lounge, and the Lily Pad Café on Wednesday, March 18th, starting at 2 a.m.

The Blue Lake Casino's doors will remain closed until the end of March, when the tribe will re-evaluate the situation. The tribe is choosing to act out of an abundance of caution and is honoring Governor Gavin Newsom's request as well as strictly following recommendations from the World Health Organization (WHO), the U.S. Centers for Disease Control and Prevention (CDC), the Humboldt County Department of Health and Human Services, and other trusted sources of information.

At this point, the Blue Lake Hotel will remain open. Before check-in, guests are being asked if they have been in close contact with a person with symptomatic laboratory-confirmed COVID-19. The information is then being reported to the Centers for Disease Control and Prevention. If necessary, the tribe is prepared to close the hotel if the situation begins to look unsafe.

The Blue Lake Rancheria will keep Play Station 777 Gas Station and Convenience Store open for people to get fuel and supplies. If the coronavirus worsens, the tribe plans to limit access to the convenience store, and will ask customers to pay outside by credit card at the pump – all pumps will be routinely cleaned and sanitized.

The Blue Lake Rancheria's government offices and business enterprises are following recommendations from the Centers for Disease Control and Prevention (CDC) routinely cleaning and disinfecting frequently touched surfaces (e.g. workstations, countertops, and doorknobs), as well as requiring employees to practice regular handwashing and to stay home if sick. Hand sanitizer dispensers have been placed throughout the property in public spaces and employee-only areas for people to readily use. To educate our employees and guests about
COVID-19, we have posted CDC bulletins and posters about measures that we all need to take to prevent the spread of this virus.

At this time, we expect no disruption of tribal government programs. Programs such as home meal deliveries will continue as usual. We will notify stakeholders with as much advance notice as possible if any changes are expected.

The Blue Lake Rancheria is always looking ahead at issues that could impact the region and takes great pride in community preparedness, keeping our tribal members, valued guests and dedicated employees safe. The tribe's top priority right now is to reduce the risks of coronavirus and keep our community healthy. We are reviewing local, state, and federal recommendations daily and making necessary changes. The Blue Lake Rancheria has declared a state of an emergency and is mobilizing appropriate resources.

Andrea Marvin
Communications Manager, Blue Lake Rancheria
From Bear River Rancheria:
See related PDF
See related PDF