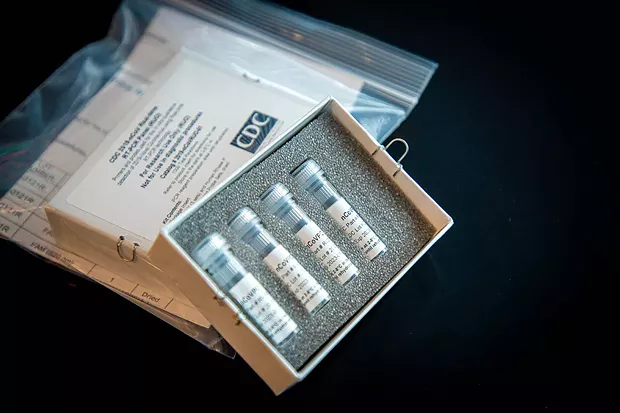 CDC
A testing kit.
Humboldt health officials announced today that reports on local testing and results will be updated daily Monday through Saturday in the Humboldt Health Alert section on the county's website.
The information can be found at
humboldtgov.org/HumboldtHealthAlert
.
From March 7 to March 16, the public health lab ran 23 tests, all of which came back negative. To date,
the county has seen
one confirmed case — which has since been cleared — and one indeterminate case.
The lab currently has 200 tests total, according to the release. The turn-around time for results is about 48 hours. Public Health is not reporting out the results of tests conducted at commercial laboratories and it remains unclear how or when those would be released to the public.
For the
Journal
's latest COVID stories, updates and information resources, click
here
.
Read the full DHHS release below:
Starting today, the Humboldt County Joint Information Center will provide daily updates about local COVID-19 testing capabilities and results.

The information will be updated Monday through Saturday and posted at Humboldt Health Alert located at humboldtgov.org/HumboldtHealthAlert.

Public Health Lab report for March 16

*Numbers below do not reflect testing by commercial laboratories.

People tested before the Public Health Laboratory came online March 7:
• 6 tested by the Centers for Disease Control and Prevention or California Department of Public Health.

People whose tests were run by the Public Health Laboratory:
• 23.

Results Summary to date: • 29 total patients tested
o 1 positive, cleared
o 1 inconclusive, cleared
o 27 negative.

Current test capacity:
• Public Health currently has the capacity to run 200 tests with an approximate turnaround time of 48 hours.

For the most current information about COVID-19, visit CDC.gov or CDPH.ca.gov. For local information, visit humboldtgov.org/HumboldtHealthAlert, call 707-441-5000 or email covidinfo@co.humboldt.ca.us.